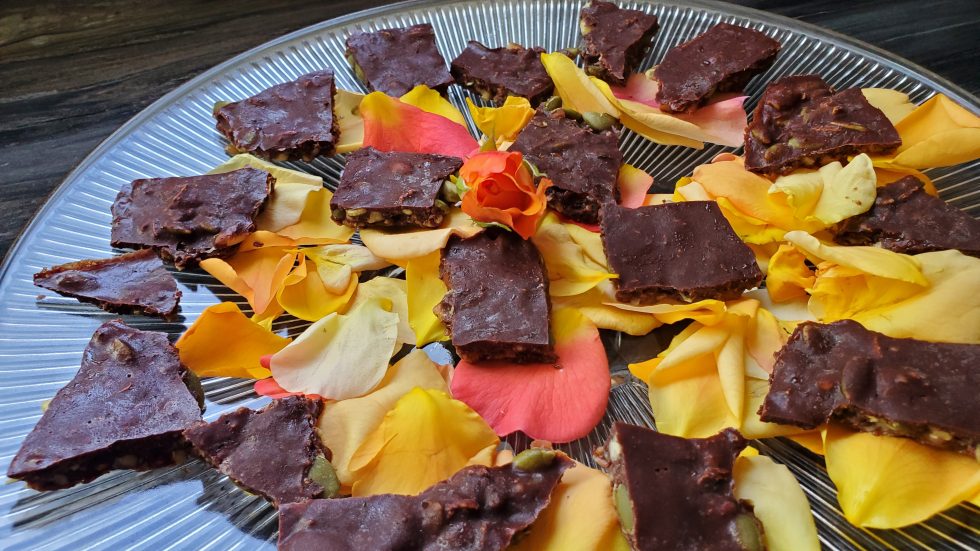 Cacao Orange Nut and Seed Bark
There is something delicious about enjoying Cacao (the raw form of chocolate) with a taste of orange.
Last month we had the true joy to spend Mother's Day with my Mom, celebrating her.  The beauty of these occasions is we eat very well.  Everyone brings something to share.
As I was preparing my Beet Quiona Salad and some of the Cacao Oat Bars Mom just loves, I thought lets try a little something extra.  I had seen a recipe shared on the Instagram Page by the Canadian School of Natural Nutrition that was created by Joanna Brown with Rejoice Nutrition Wellness.  As Mom loves anything related to the family of chocolate, I thought I could create something similar and yet different.
Always appreciate the inspiration from others.
I loved what Joanna had done with her recipe and wanted to make some changes.  For me creating recipes is how I relax.  Loved the combination of the nuts and seeds, wanted to make a few adjustments.  As cacao and orange is always so delicious thought this would be a perfect addition.
The only downside is, this bark melts really easy.  These were a beautiful hit.  I had left some of the bark at home and my husband now loves to add this to the ice cream he enjoys after dinner.
This recipe is rich in Omega 3s and Magnesium.  A perfect addition to your fruit and yogurt, ice cream or just for a tasty snack.  I will openly admit I have added this bark to my morning yogurt, berries and hemp hearts.  Gorgeous brain food!
Hope you enjoy this recipe:
Prepare a 9 X 12 pan with parchment paper.  If you like your chocolate layer thicker, decrease the size of your pan.
The order of placement on the pan is important.
Ingredients
1/2 cup chopped pecans
1/2 cup pumpkin seeds
2 tbsp hemp hearts
1 tbsp flax seeds
Chocolate layer
1/2 cup coconut oil – melted
1/3 cup Cacao (I really like Harmonic Arts)
1 orange – zest and juice
2 tbsp maple syrup
Instructions:
 Add the pecans, pumpkin seeds, hemp hearts and flax seeds to a sheet of parchment paper on a cookie sheet or rectangular pan.  Spread these as evenly as you can.
Using the fine area of your grater, grate your orange to get the Orange Zest.
Slice the orange in quarters.
Melt the Coconut Oil on the stove.  Once melted turn off your burner.
Add the juice from the orange, cacao and orange zest.  Mix together.
Add the maple syrup.
Spoon the cacao mixture over your nut and seed mixture.  This will cover the nut and seeds mixture.
Place in the freezer for 30 minutes.
Once frozen break into different sized pieces of bark.  This is a beautiful addition to your yogurt and fruit, bowl of ice cream or just to enjoy.
This is a delicious way to enjoy more magnesium in your eating plan.
Be kind.
Be patient.
Be nourished in all you  do.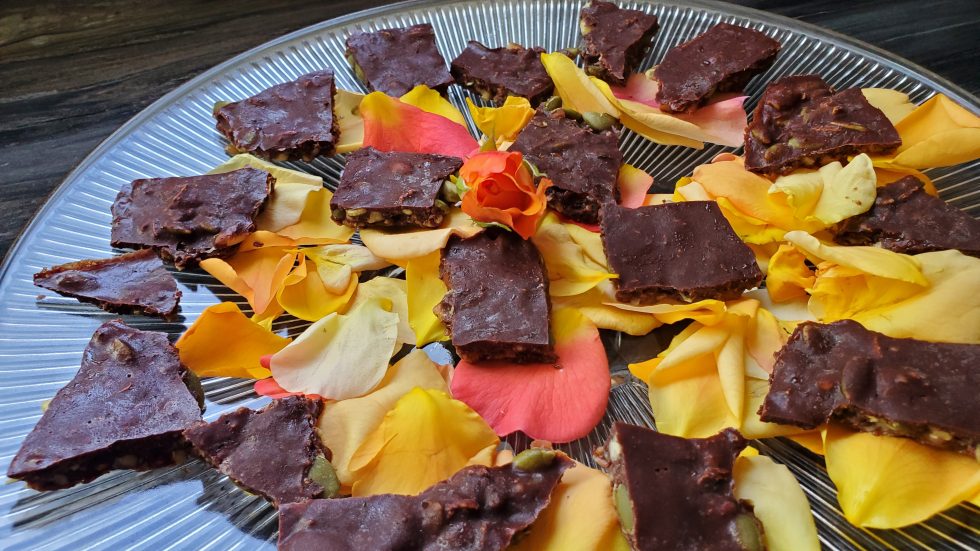 At The Nourished Executive we partner with business professionals and share strategies to invest in wellbeing, manage stress and prevent burnout.
Our founder, Sharon K. Summerfield,  is a Wellbeing Coach and a Holistic Nutritionist, with demonstrated success in nurturing healthy employees and high performing organizations. 
We have a strong commitment to giving back, investing in local community creating space for all students to consider careers in construction, science, technology, engineering and math.