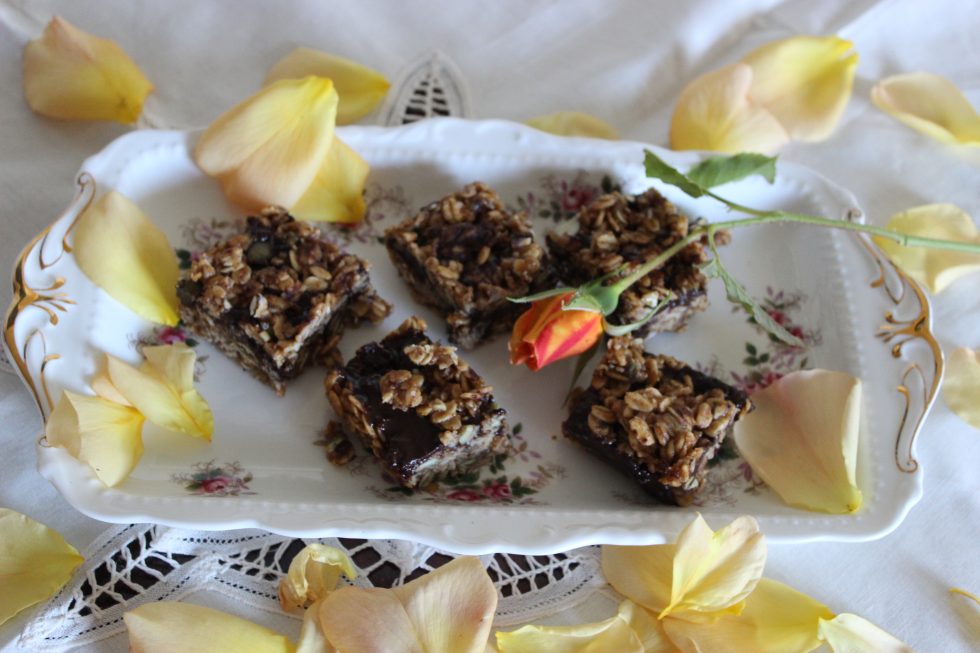 Pumpkin Seed and Almond Butter Nourishing Oat Bars
Looking at the ways you can incorporate more magnesium in your eating plan?  This is a great place to start.  Magnesium is needed for more than 300 functions in our bodies and most of us are deficient.  Magnesium is a gift to help manage stress.
This recipe has evolved over the past six months or so.  I was first introduced to a version of this recipe by Tessa Fisher with Salted Plains.  As I looked at the ingredients I wanted to expand on what Tessa had  created and include more ingredients rich in magnesium.
This recipe is also featured in the ReKnew Countertop cookbook,  on April 8th.
Earlier this year I made these bars for a visit with one of my sisters, along with the Earl Grey Shortbread  Over the course of the afternoon, we enjoyed several different teas from The Denman Island Tea Company.  Between my sister, my husband, her partner and myself,  we ate the entire pan of Pumpkin Seed and Almond Butter Nourishing Oat Bars.
These bars are outstanding!! I've already made them twice – our family devours them.  Sarah M.
As each of navigate these new times I have started sharing recipes, and this is one of them, to enjoy during Zoom calls.
In the book The Surprising Science of Meetings, author Steven G. Rogelberg shares that food can be a wonderful addition to any meeting.
…we have consistently found in our research that snacks at meetings are a good predictor of positive feelings about meetings.  Steven G. Rogelberg
This would be the perfect addition to any virtual meeting.
Look for ways that you can invite people to connect with food.
Recipe by Sharon K. Summerfield
Ingredients
1/2 cup almond butter
1/4 cup tahini
1/2 cup maple syrup plus 3 tbsp
3 cups slow cooking oats
2 tbsp orange zest (from approximately 1 to 2 oranges)
1 tsp vanilla
1/4 cup plus 1 tbsp coconut oil
1/3 cup cacao powder (I like the one from Harmonic Arts)
1/2 cup pumpkin seeds
Directions
Combine almond butter, tahini, pumpkin seeds and 1/2 cup maple syrup.  Mix together in a high speed mixer.
Add slow cooking oats.
Line 8 X 8 baking pan with parchment paper and press 3/4 of the oatmeal mixture into the pan.  Place in the fridge.
Melt coconut oil, add vanilla, remaining maple syrup, orange zest and cacao.
With a large spoon pour 1/2 the mixture over the oats mixture in the pan.
Press remaining oatmeal mixture on top of the cacao and coconut oil mixture.
Add the remaining cacao and coconut oil mixture with a large spoon.  This will be another layer of delicious goodness to enjoy.
Place in the fridge for 2 hours.
Once frozen, remove from the freezer and let stand for 15 minutes.  Then cut into bar sizes and enjoy.
We hope you enjoy these bars.  I keep these in the freezer as they are an amazing addition to have with vanilla ice cream.
In the warmer weather, when you serve these keep these on ice as the chocolate will melt.
Be kind. Be patient.  Be nourished in all you do.
Sharon
At The Nourished Executive we partner with business professionals and share strategies to invest in wellbeing, manage stress and prevent burnout.  Our founder, Sharon K. Summerfield,  is a Wellbeing Coach and a Holistic Nutritionist, with demonstrated success in nurturing healthy employees and high performing organizations.
Prior to launching The Nourished Executive, Sharon worked extensively as Project Manager/Executive Assistant.  In her coaching she incorporates many of the lessons learned, both personally and professionally, around priority setting and the importance of creating boundaries in alignment with our values and purpose.  
We have a strong commitment to giving back, investing in local community creating space for all students to consider careers in construction, science, technology, engineering and math.