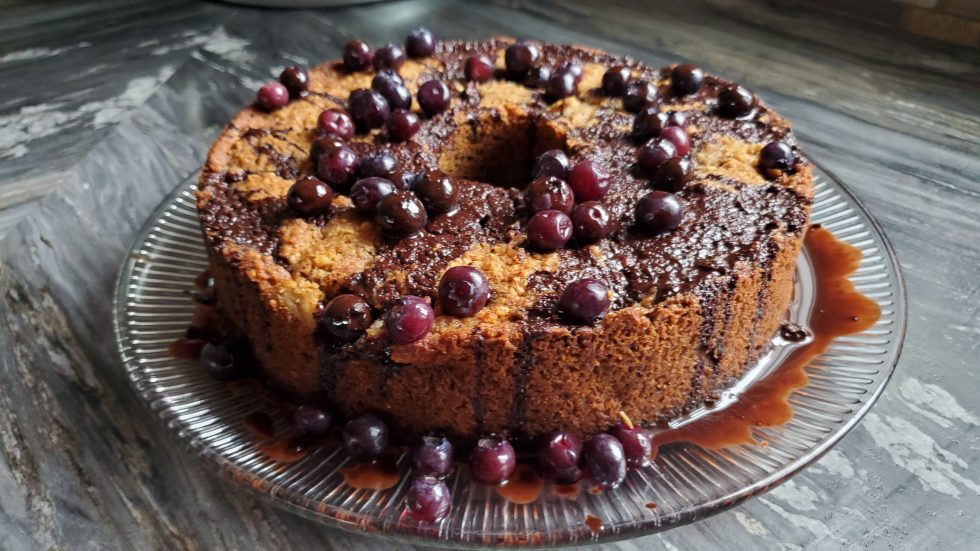 Nourishing Apple Pecan Coffee Cake
This recipe has been a work of love over many years and was first inspired by the Apple Brownies recipe in That's Trump – More Recipes from the Best of Bridge.  I started looking at ways to change this recipe more than a decade ago.
The true inspiration came from my talented and amazing physio, Klara.
She encourage me to experiment with new tools,  such as my blender, try chopping – as I was able, peel an apple, and combine different ingredients.  This might sound like an odd rehab exercise.
Klara's  idea was to improve the dexterity of my hand, while taking my knowledge in nutrition and wellness to take traditional recipes and make these more nutrient dense and then type these up.
Truly a new twist on creating typing exercises as part of an extensive rehabilitation journey.
The differences include:
Coconut oil, instead of margarine
No added sugar, the Apple Pecan Coffee Cake is sweetened with apples and maple syrup
A blend of gluten free flours.  For fun we added Quinoa.
For additional omega 3s and to help with holding the flours together ground flaxseeds was added.
Once baked and cooled the cake is drizzled with a blend of melted coconut oil and cacao.
Recipe created by Sharon K. Summerfield
To print and view the recipe Nourishing Apple Pecan Coffee Cake
1 cup coconut oil
1 cup maple syrup
2 eggs
1 cup gluten free flour (I like the Namaste Foods Gluten Free Perfect Flour Blend)
1 cup almond flour (if you do not have almond flour, place 1 cup of almonds in your blender, and blend)
1 tsp baking powder
1 tsp baking soda
1 cup cooked Quinoa (cook 1/3 cup uncooked Quinoa)
2 tsp cinnamon
1 tsp cloves
2 tbsp ground flax
3 sliced apples (I prefer Galas)
1 cup chopped pecans (you could also do a mixture of walnuts and pecans)
2 tsp vanilla
Optional – add 2/3 cup of dark chocolate chips.  (I like the Enjoy Life Chocolate Chips as they contain no gluten, dairy or soya.)
Instructions
Preheat over to 350 and bake in a Bundt Pan.
Mix ground flax with 1/4 cup water and let stand for 20 minutes.
Mix all ingredients together and then spoon into the Bundt Pan.
Bake for 35 to 40 minutes
Set aside and let cool
Chocolate Drizzle
Melt 2 tbsp coconut oil in a small pot on the stove on medium heat
Add 4 tbsp cacao.
Once cake is cool drizzle chocolate and add your favourite berries.
This is a perfect cake to drop off for a neighbour or send the recipe to a colleague so you can enjoy this together via Zoom, as we find new ways to come together to build connection as we are socially apart.
Be kind. Be patient. Be nourished in all you do.
At The Nourished Executive we coach business professionals and share strategies to invest in wellbeing, manage stress and prevent burnout. Our founder, Sharon K. Summerfield, is a holistic nutritionist and certified breath coach, with an extensive business background.  We have a strong commitment to giving back, investing in local community creating space for all students to consider careers in construction, science, technology, engineering and math.