Sweet Potato Apple Nut Bread
Fall is such an amazing time of the year.  All our gorgeous trees are changing colours.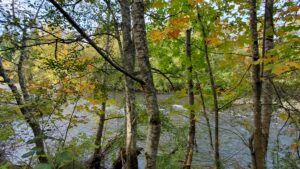 Going for a walk and experiencing the "crunch" of the trees is such a gift.
Along with the changes in natures there are so many tasty fruit and vegetables to enjoy like sweet potatoes and apples.
I wanted to create a tasty bread that we could enjoy as a snack or as an add on to breakfast.  It was important that this be gluten free and contain no sugar, not even maple syrup.  As usual my husband and friends were part of the "quality control team" that sampled and helped this recipe evolve to where it is today.
Recipe for Sweet Potato and Apple Bread
Created by: Sharon K. Summerfield
This recipe is our healthy version of a bread that is gluten free and dairy free, made with Oat flour and Namaste Gluten Free Flour Blend, Sweet Potato, Apple Sauce, Walnuts and Pecans. Incredibly moist and delicious.  You can enjoy this without butter and other sweeteners. In saying that it is delicious with organic honey.
Bake at 375 for 40 to 50 minutes.
Ingredients:
1 cup sweet potato puree (1 medium sized cooked yam that has been mashed)
1/2 cup unsweetened apple sauce (if you make your apple sauce from scratch you will need two medium size apples)
1/2 cup Namaste Gluten Free – Perfect Flour Blend 
1/2 cup Oat Flour – Use Old Fashioned Oats and blend in your Bullet or Coffee Grinder
1/2 cup ground Pumpkin Seeds
1/4 cup chopped Walnuts
1/4 cup chopped Pecans
1 tsp Baking Soda
1 tsp ground Cinnamon
1/2 tsp ground Ginger
1/2 tsp ground Cloves
1/2 tsp ground Cardamom – I like the one from the Gathering Place now in Campbell River, BC
2 medium size eggs – lightly beaten
1 tsp pure vanilla extract
*1/2 cup Chocolate Chips – I like the ones from Enjoy Life, as they are dairy, nut and soya free.
Directions:
 Bring a medium size pot to a boil and add the yam that has been chopped up in small cubes.  This will help the yams to cook faster and evenly.  Once cooked, drain water,  then mash.
Add the Apple Sauce to the mashed yams.  If you would like to make the apple sauce from scratch, you will need two medium size apples.  Take a small pot add enough water to cover the base of the pot.  Add the apple sliced in small pieces.  Continue to cook and stir until you can mash this.
For the Oat Flour you can use Old Fashion Oats that you blend in your bullet.  Once blended add the pumpkin seeds to blend these as well.
Once steps 1 to 4 have been completed, add all of the remaining ingredients.
Place in a prepared loaf pan and bake for 40 to 50 minutes at 375 degrees.  Keep an eye on the bread and check to see that it is cooking evenly.  Before removing from the oven check the bread by inserting a clean butter knife.  If it comes out clean with no unbaked batter then it can be removed from the oven.
Remove from oven and then cool.  Once cooled remove from the loaf pan.  Slice your bread and enjoy.
You can also make this bread without the Chocolate Chips.  If you choose not to include the chocolate chips, reduce the quantity of your yams to 3/4 cups.
It was a true treat to create this recipe.  Something so tasty to enjoy with your family and friends.   For those returning to the office, make this to share with your colleagues.  Meetings are always so much better when there are tasty things to enjoy.
Hope you enjoy our latest creation.
Warmly,
Sharon K. Summerfield
Be nourished in all you do.
Photography by Sharon K. Summerfield.
At The Nourished Executive we coach business professionals and share strategies to invest in wellbeing, manage stress and prevent burnout. Our founder, Sharon K. Summerfield, is a holistic nutritionist and certified breath coach, with an extensive business background.  We have a strong commitment to giving back, investing in local community creating space for all students to consider careers in construction, science, technology, engineering and math.