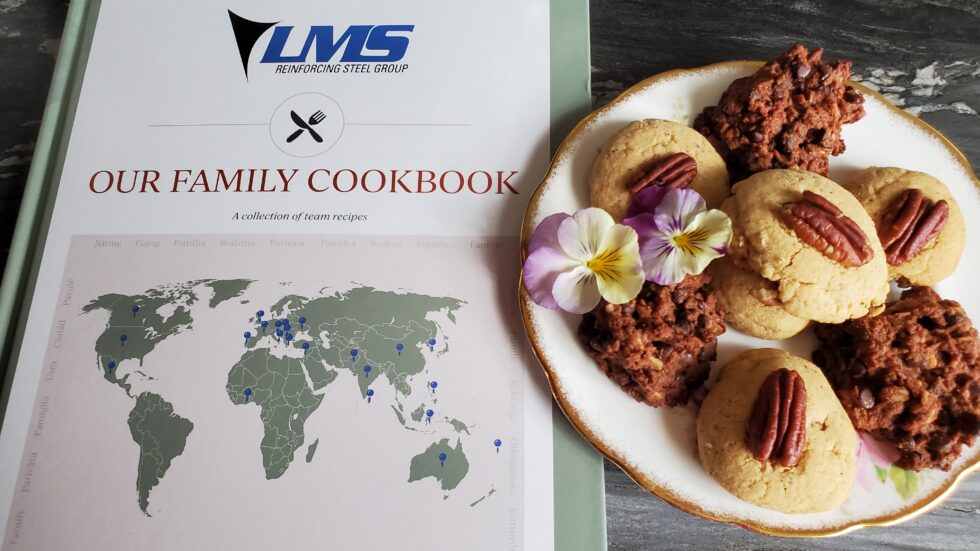 Pecan Peanut Butter Cookies perfect for Tea Time
Honestly, I always love receiving a new cookbook.
In August my two copies of the LMS Reinforcing Steel Group Family Cookbook arrived.
I will openly admit I really enjoy cookbooks created by different people featuring  their  favourite  creations.
It is the diversity of the recipes.  And yes, I do have several different cookbooks that were created by different teams.
You may be thinking, why two copies.  The second copy will be part of a door prize for a Wellness Event I am planning.
I just loved the gorgeous mosaic of recipes shared by the staff at LMS. This cookbook raised close to $10,000 for Canuck Place Children's Hospice in Vancouver.  Such a gift to add a gorgeous cookbook to my collection while contributing to a wonderful fundraiser making a big difference.
As I opened the cookbook the first page it opened to was the Grandma's Peanut Butter Cookies, recipe by Rob Domeij.  My Grandma used to make Peanut Butter cookies, it was like a sign.  I had started doing baking to take to the cabin to enjoy with family for my birthday in a few days.
I looked at the recipe, and as I rarely "go by the book", I made a few changes.
Changing the shortening to butter, as everything is better with butter.
Adding ground pecans, just because.
Replacing the eggs with ground flax seeds
Using different flours, like spelt and gluten free flours.
A special thanks to the LMS Chefs who created this great cookbook, and gave me the inspiration to make one of my favourites, Peanut Butter Cookies my own.
These cookies are delicious.  I keep them in the freezer to help slow down consumption.
Recipe created by Sharon K. Summerfield
Ingredients:
1/2 cup plus 1 tbsp butter at room temperature
1/2 cup peanut butter (try to find a natural peanut butter with no added sugar)
1 cup granulated sugar
2 tbsps ground flax seed
1tsp vanilla
1 1/4 cups flour – I prefer a Gluten Free Flour or a Spelt Flour   ( I have used regular enriched flour,  the Namaste Gluten Free Perfect Flour Blend and the Organic Anita's Flour, in different batches.)   All delicious.
1 tsp baking soda
1/2 cups chopped pecans
Directions:
Preheat your oven to 375.
Place the ground flaxseed in 1/4 cup of water and let soak for 20 minutes.
Chop the pecans.
Combine all ingredients and mix thoroughly.
Shape balls, about an inch in diameter.  Then place on a prepared cookie sheet.
Press down with a fork that has been dipped in water.
Bake in preheated oven for 10 to 12 minutes.  Cookies should be a golden brown.
Cool on a cooling rack.
This is a great recipe to enjoy with your favourite cup of tea of coffee.  For me it is a great addition to enjoy with the Organic Rooibos Chai  from the Denman Island Tea Company.
As our offices begin to open and we start gathering in smaller groups this is a great option to bring to a small group gathering.  I will openly admit I need to start doubling the batch as these cookies are one of the favourites in our home and to share with others.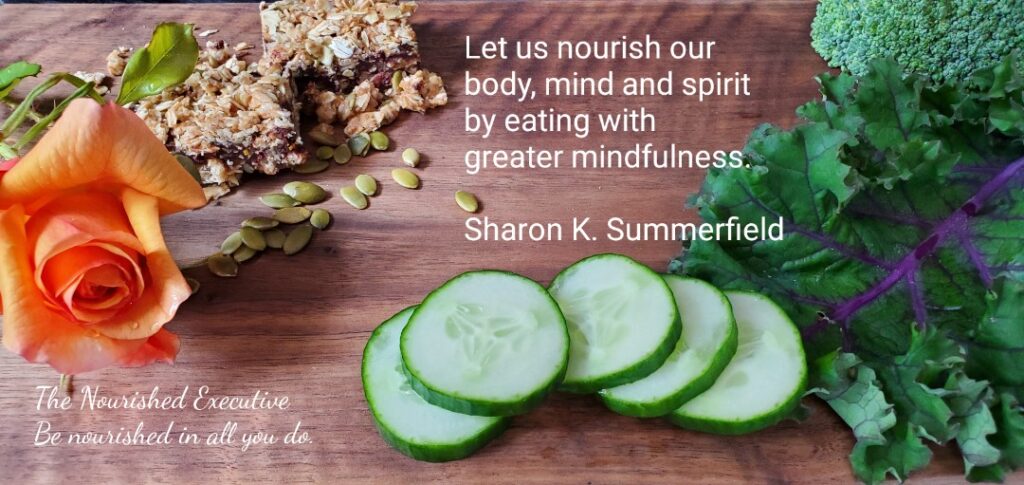 What will you enjoy for your next tea or coffee break?  As you look forward to your week taking a break to nourish your wellbeing away from work is key.  Your body, mind and spirit will thank you.
Be kind.
Be patient.
Be nourished in all you do.
Warmly,
Sharon K. Summerfield
At The Nourished Executive we coach business professionals and share strategies to invest in wellbeing, manage stress and prevent burnout. Our founder, Sharon K. Summerfield, is a holistic nutritionist and certified breath coach, with an extensive business background.  We have a strong commitment to giving back, investing in local community creating space for all students to consider careers in construction, science, technology, engineering and math.