Making a difference happens one conversation, one action at a time
I continue to be so inspired by the generosity by so many organizations and individuals.
As each of us navigate these new waters of uncertainty, the need to offer a hand up supporting others is so important, not just in the holidays, all year long.
Giving Tuesday is now behind us and this had me reflecting on what is possible when we start with one conversation that is followed by one action and the profound impacts this makes in the lives of many.
When I was with CH2M HILL, a large global engineering firm, I had the true joy, on a volunteer basis, to initiate and lead a community partnership with Maywood Community School, an inner city elementary school, in Burnaby.  Maywood had 400 students speaking close to 40 different languages. This started with a conversation with the principal and the community coordinator.  The goal of the partnership was to narrow the gap between the inner city world of Maywood and the corporate world of CH2M HILL, and share initiatives focused on Construction and Science, Technology, Engineering and Math.
The principal at Maywood shared this comment on the partnership
From the beginning Sharon was dedicated to building a relationship with our community. She embodies a passionate belief in the power of community. Sharon inspires those around her to make a difference in the lives of others.
In one of these conversation I learned the Grade 7 students were selling Hot Chocolate to raise funds for the Christmas Hampers.
This opened a window to hold this fundraiser in the CH2M HILL offices, with the students selling the hot chocolate, donated by a coffee company.  In one hour more than $400 was raised.  This helped support these families in new ways..
As we fast forward to our new times the opportunities to come together has changed.  We can find different ways to invest in community, lift and empower others.  This starts with each of us.
In the spring as the in person events, meetings and conferences were cancelled and refunds were received many of us redirected those funds to organizations at the community level.
As we transitioned to November this opened a window for me to contribute to a Silent Auction raising funds for Dixon Transition Society in Burnaby, a society that supports women and children fleeing domestic violence.  This created space to contribute to make a difference in the lives of others and support local businesses.
Over the last few weeks my husband and I had the opportunity to participate in the Salvation Army Kettles raising funds for our local community.
My husband is a trumpet player, and a fire fighter.  We were in the community wearing our masks, and yes Joe also had a mask on his trumpet, and sharing the gift of music. The generosity of many was amazing.  The smiles from those who listened to the music, the requests for Christmas Carols and the true joy that was shared, made us all feel a little closer even though we were socially distant.
In these new times many are struggling.
As I reflected on my experience with Maywood so many amazing things happened that started with one conversation and one action.  For each of us as we find our way these conversations and actions will be different.
In the spring the Lunch Box Challenge happened where construction companies purchased lunches from local companies, for their individual sites and then nominated another company to do the same.  This made my heart smile as the companies challenged each other and shared this on social media.
So many friends and colleagues were inventive in how they made a difference.  Some did extended bike rides, others were virtual runs.  Others such as a former colleague, who participated in Run for the Cure, a fundraiser for the Canadian Cancer Society, dyed her hair pink when she met her fundraising goal. Another friend, a talented singer, held virtual events where all proceeds went to the Food Bank in Vancouver.
So many individuals and organizations are really struggling.  If each of us made one conversation a priority on how we can give back and followed that up with one action, what a difference this would make.
Perhaps this is:
Contributing to your food bank
Writing Christmas Cards to seniors in a Care Facility
Making a commitment to support 3 small businesses within your community
Designating funds to your favourite charity
Bidding on an item in a silent auction
Supporting someone with coaching as they prepare for job interviews
Volunteering
The options are many.
The time is now to consider, what is the one thing you can do or conversation you can have?
This photo is of our Magnolia Tree following a two day snow storm earlier this year.  Currently there are new shoots coming up.  This year has been difficult for many.  As each of us continue to find our way, my hope is the seeds planted this past year will have new roots that propel us forward in new and exciting ways.  This begins with each of us.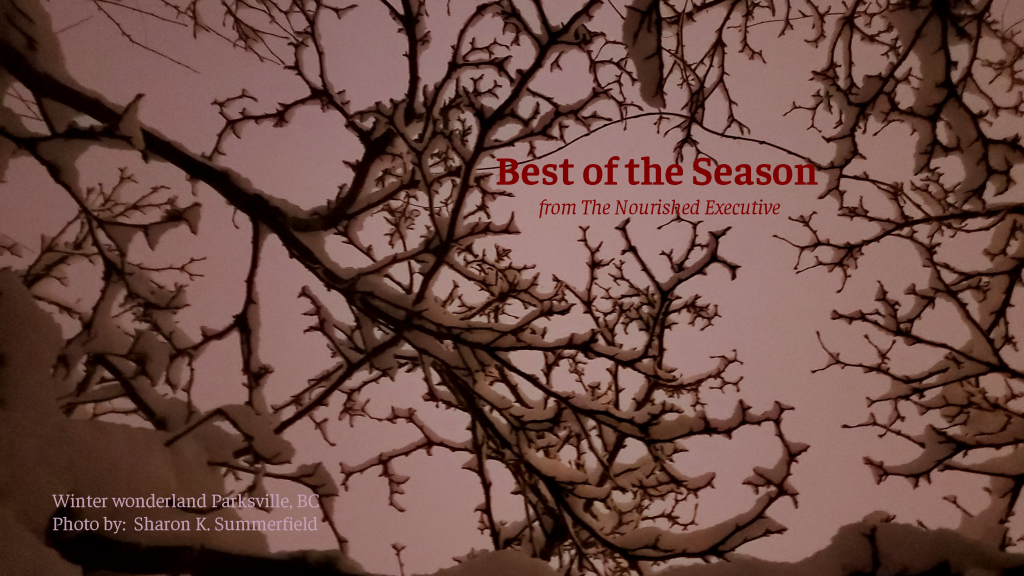 We all can do one thing, together we do make a difference.
Wishing you and your family all the best for the holidays.
Be kind.
Be patient.
Take good care, and please wear your mask.
Be nourished in all you do,
Sharon
At The Nourished Executive we coach business professionals and share strategies to invest in wellbeing, manage stress and prevent burnout. Our founder, Sharon K. Summerfield, is a holistic nutritionist and certified breath coach, with an extensive business background.  We have a strong commitment to giving back, investing in local community creating space for all students to consider careers in construction, science, technology, engineering and math.