Inspiring Read – Eat Sleep Innovate – How to make Creativity an Everyday Habit Inside your Organization
I recently read Eat, Sleep, Innovate – How to Make Creativity an Everyday Habit Inside Your Organization, written by Scott D. Anthony, Paul Cobban, Natalie Painchaud and Andy Parker.  An amazing book!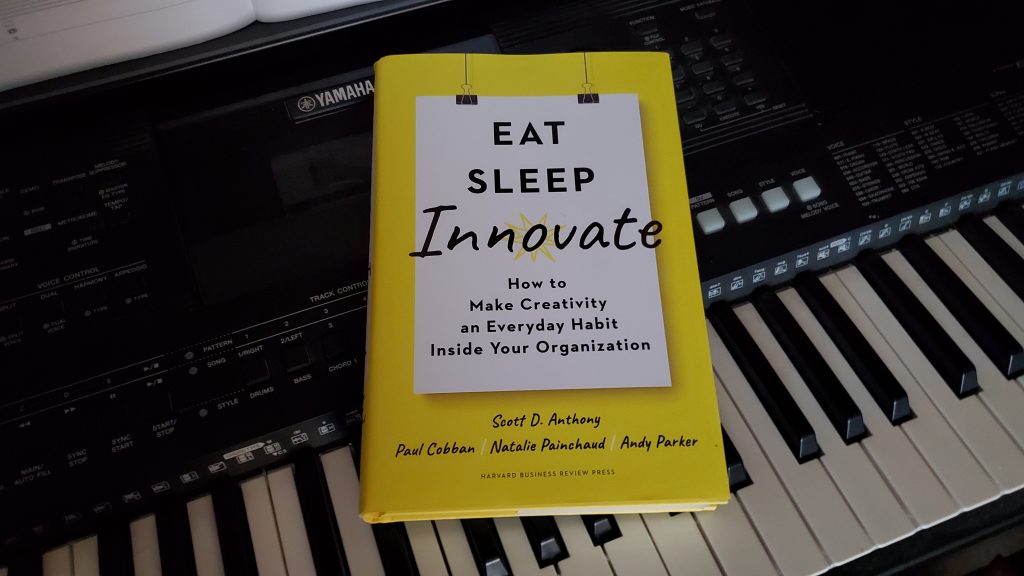 Innovation is only possible in cultures where it is Psychologically Safe.
Intertwined through this great book are Clayton Christensen and his work around the Innovators Dilemma, who sadly passed away last year, and Amy Edmondson work on Psychological Safety.
Building teams, projects and organizations that are Psychological Safety truly is our differentiator and competitive advantage.
The authors share many case studies finding different ways forward.  Part of this is looking at the behaviour that drives innovation success such as:
Curiosity
Customer Obsession
Collaboration
Adeptness in Ambiguity
Empowerment
I really enjoyed how the authors spoke to some of the ideas around innovation.
Not having constraints may result in many "undernourished flowers".  The more specific you are to the problem you are trying to solve, supporting it with the needed resources, the greater chance you have of getting closer to a solution, opening a new window for learning and growth.
Culture change is possible by small changes to habits each and every day. The authors share this happens when we create space for what they refer to as BEANS behaviour enables, artifacts and nudges.
This is a great book encouraging us to create space to make creativity and innovation a daily habit.
Eat – Sleep – Innovate is split in two parts; Part 1 – Lays out the foundation and Part 2 – Shares tips, tools and tricks in four different phases.   I will share only a few highlights from each chapter.  This book is so rich with brilliant ideas.
Part 1
Chapter 1 – The Responsibility of Many
"Culture change starts by getting granular and defining the specific behaviours that enable innovation success."
Culture is not what you see, it is what you do.
Great innovators are Curious, Customer-Obsessed, Collaborative, Can thrive in Ambiguity and Empowered.
Creating a culture of innovation improves shareholder returns and team performance.
Chapter 2 – The Shadow Strategy
Innovation is not natural in many organizations.
"The Shadow Strategy is the reason culture eats strategy for breakfast. "
We are naturally curious and creative. Sadly school and work limit those tendencies where many question their ability to innovate.  To find new ways we must go up against those constraints.
Chapter 3 – Hacking Habits
Habit change requires engaging both peoples rational, logical side and their emotion, intuitive side.
The enemy of innovation, in many organizations, are the reinforced systems and norms.  These habits need to broken to find new ways.
Having an equal shared voice and psychological safety was critical to high performing highly innovative project teams.
A few ways forward:
Make your meetings more effective by including:
MOJO (Meeting Organizers and Joyful Observers)
Meeting Organizer (MO) Responsible for the agenda, to begin the meeting on time and create space for everyone in the meeting to have equal say.  And the, Joyful Observer (JO) to ensure inclusive participation and to keep the meeting on track.
Engaging the collective brain power of the people will work with an active ongoing process
Find new ways by hacking habits with BEANS:  behaviour enablers, artifacts and nudges, these are direct ways to support behaviour change.
Innovation solves a problem, a BEANs encourages a behaviour.
Chapter 4 – Conducting a Culture Sprint
A Culture of Innovation is one in which the behaviours that drive innovation success come naturally.
A Culture Sprint is a two day activation session.  On Day one the session opens a window for attendees to live the desired behaviours and on day two focus on BEANstorming.  Following the activation session this requires dedicated resources to nurture and cultivate current BEANS and create new ones.  A concentrated movement is need to reinforce this culture change.
For culture change to happen we need to create space for BEANs "behaviour enables, artifacts and nudges".
For BEANs to be successful the authors highlighted six key ingredients:
Simplicity – make it easy to put in place and remember
Practicality – Connect to existing routine
Reinforcement – Create digital and physical reminders
Organizational Consistency – Links to objectives, processes, systems and values
Uniqueness – Creating something social and fun, supporting it was legends and stories.
Part 2
Phase 1 – Discover Opportunities
Be Curious and Customer-Obsessed
I truly enjoyed these tools to assess your Curiosity Quotient.
Customer Intimacy – get to know your clients and customers, not only from a business perspective.  What is important to your client?  What keeps them up at night?
External orientation – venture on an "idea road trip". Bring in speakers from both inside and outside your organizations, and at times outside your sector.
Idea sourcing- Seek ideas everywhere
Collisions – Bring diverse groups together to tackle tough problems
Openness to experimentation – Experiment on a regular basis, to learn
Idea sharing- Share ideas early on to get honest, open and real feedback.
Failure Tolerance- Recognize that learning is more important that the immediate commercial success. We need to celebrate and learn from our failures, or as I call them "Lessons in Wisdom".
Phase 2 – Blueprint Compelling Ideas
Don't wait for things to be perfect.
When searching for innovative ideas  get closer to the market.  Stepping away from the office, may help leaders observe things, through hands on experience that may be hidden.  Failure, or as I like to refer to it "Lessons in Wisdom" is a very unique way to learn. There is great strength to learn by doing.
Phase 3 – Assess and Test Ideas
A desk is a dangerous place from which to view the world.  David John Moore Cornwell
Build connection with your potential client or customer.  This helps to invest in relationships where you may see a new way into the market.
Psychological Safety is a key enabler of team success.  Successful innovation may have a number of false steps that can feel like failure.
To transform themselves leaders must focus more on mindset, awareness and inner capacity to help combat biases that make decision making hard in times of uncertainty and move between the different frames of a mindful leader with a growth mindset.
Creating space where it is safe to disagree begins to build a culture of innovation where we can contribute and learn. Too often in some organizations the view is for a manager to prevent risks.  Sometimes the organizations that become too risk averse impede innovation, creativity and more importantly growth.  The manager's job is to make it safe where we can learn, grow and question.
So many beautiful examples are shared throughout this book.  Satya Nadella talks about how exercising a growth mindset means being "customer obsessed, diverse and inclusive".  This is so more than "know it all" and moving to "learn it all".  Modelling emphatic leadership is key.
When looking for answers, consider defining problems that are worth solving.
Phase 4 – Move Ideas Forward
The final phase of the innovation journey involves moving from experimenting and learning to executing and expanding.

Innovation success results from disciplined experimentation.
Dedicate the needed resources to your best ideas.  Consider the disruptive investments that position the organization in different ways.  Look at both your external and internal amplifiers
Conclusion
The authors bring Eat – Sleep – Innovate to a close sharing:
Culture change in organizations that consist of tens of thousands of employees cannot be mandated.

It requires followers fed by behaviour enablers, artifacts, and nudges (BEANs) boosted by appropriate programs, systems and structures, and led thoroughly and carefully.
In closing the authors share lessons from Normal Organizations Doing Extraordinary Things (NO-DETs):
Lesson 1 – Innovation can happen anywhere
Lesson 2 – Innovation does happen Everywhere
Lesson 3 – Incumbency has its advantages
Lesson 4 – Culture Change Takes Time
Lesson 5 – Use Specific Language
Lesson 6 – Leaders need to Lead, but carefully
I truly was inspired by  Eat – Sleep – Innovate.  Highly recommend you take a few hours out of your week dedicated to reading, with no interruptions, and enjoy this book.  Consider how you can make creativity, to build innovation, a daily habit in your organization.
Some great partner reads are:
The Fearless Organization, written by Amy C. Edmondson
The Four Phases of Psychological Safety, written by Timothy Clark.
The Innovators Dilemma, written by Clayton Christensen
Project Leadership, written by Susanne Madsen
Be nourished in all you do,
Sharon
At The Nourished Executive we coach business professionals to be nourished in all they do.   We have a strong commitment to giving back, investing in local community creating space for all students to consider careers in construction, science, technology, engineering and math.