Beautiful Book – Love + Work, written by Marcus Buckingham
Over the past few months I have had the true joy to attend the Love + Work Leader Series  that Marcus Buckingham has been hosting.  This series was all about sharing different parts in the Love + Work Book.  Such a gift.  During our recent Alaskan cruise I  read Love + Work.  I have featured some of the thoughts from Love + Work with some of my photos.
A little background, I have been following Marcus Buckingham's work since around 2008, when I discovered his book "First, Break All the Rules".  In 2013 I had the true joy to hear Marcus speak at the Art of Leadership, in Vancouver, BC Canada, a conference I highly recommend.
Love + Work is the fifth book I have read by Marcus Buckingham.  In this book Marcus shares his story, along with the challenges of having a stammer in elementary school and a wonderful teacher that helps him find his love;  going through a divorce;  the love in work he discovered earlier in his career; and meeting his fiancé  Myshel,  her journey and so much more.
Love + Work is about finding your red threads and your loves.  Throughout this book Marcus highlights some amazing pieces from some of his other books.  It is a gift to revisit books like "First, Break All The Rules" and "Nine Lies About Work" that truly highlight the heart of the matter.  Captured in this book are several questionnaires to help you discover your red threads and your loves.
"Anything of value you offer to others is your work." Love + Work
As we look at our work, we need to look beyond the why to the what.
"For your loves to turn into contribution pay attention only to the specific activities you love not the outcomes of those activities." Love + Work
For me this thought in Love + Work captures the essence of this beautiful book.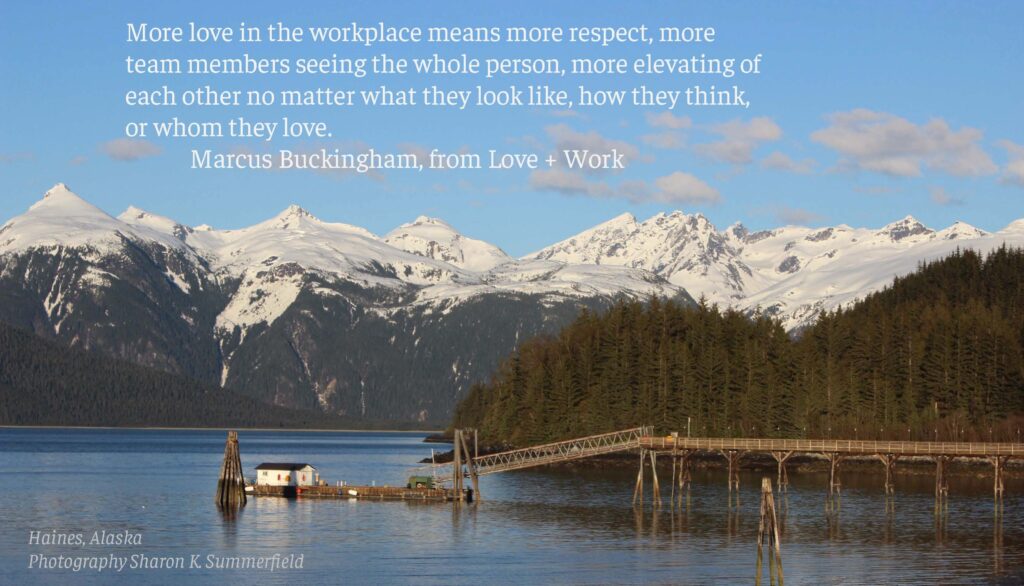 For those who follow Marcus Buckingham's work know he is also passionate about helping our students discover their strengths and what they love. Chapter 2 – Where Did The Love Go? features one teacher who changes the question from "Where do you want to go to College" to "When was the last time a day flew by".
If you have read "Nine Lies About Work" and the chapter that People Need Feedback, this thought is so true and feeds into the chapter on advice in Love + Work:
"If you want your people to learn more, pay attention to what working for them right now and build on that."  Nine Lies About Work
Chapter 12 is titled – Feedbacking – The Road to Hell is Paved with Other People's Advice.  This chapter highlights an experience where Ashley Goodall the co-author of Nine Lies About Work with Marcus, is preparing to record his part of the audiobook. Marcus shares what works for him in recording an audiobook.  The thing is in giving advice you are giving it from your perspective and what worked for you.  Ashley shares after the recording what worked him.  As a pianist, he was familiar with sight-reading.  Ashley settled into the rhythm of sight-reading similar as to how he would play a classical piece, as he recorded his parts to the audiobook for Nine Lies About Work.
"The Golden Rule states that you should treat people as you would like to be treated.  Ashley's entire approach to doing, thinking, learning, speaking, performing is meaningfully different from mine, and so any advice I gave that worked for me would almost be guaranteed not to work for him. " Love + Work
This chapter is beautiful and so wise.  Look for others reactions.  This is a time to be curious.
"You are using their reaction to what worked to become ever more expert at turning your loves into contribution" Love + Work
The feature of "Fear-Fighting – Make Love to Your Fears" in Chapter 13 is such a gift.  How often do we let our fears simmer and lead us to inaction?  This thought is so amazing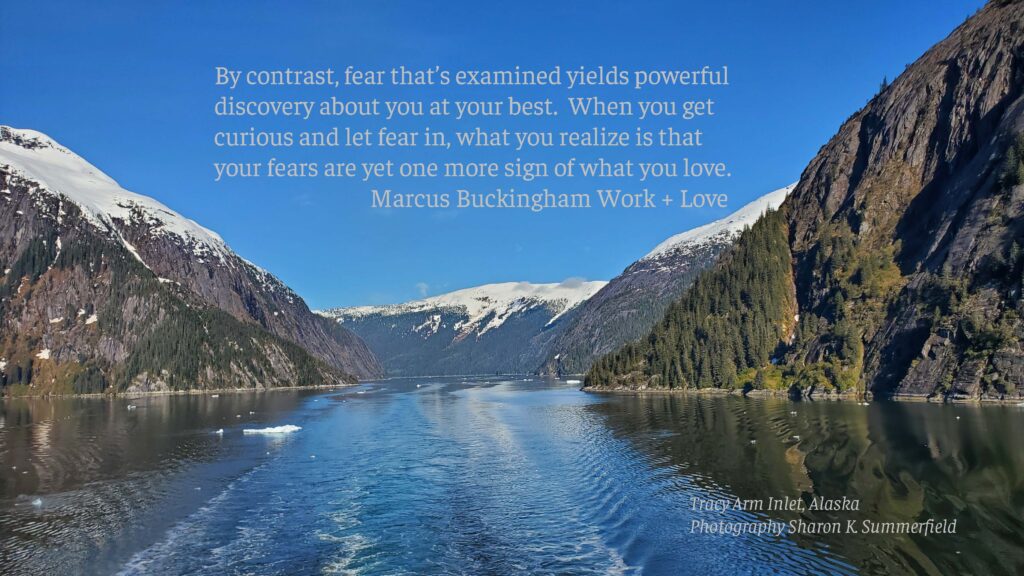 In Chapter 18 – Love @ Work – How to Become a Love + Work Leader: this is truly looking at ways we can find those loves in our work and we must looks at the myths.  Such as MYTH:  The team leader should set goals at the beginning of the year.  TRUTH:  The team leader should check in with each team member for fifteen minutes each week.  Highlighted throughout this chapter are ways to hold these meetings along rituals to revisit.  Highlighted is also The Love + Work Organization Interview.
"If we get enough talented people like you choosing to join only those organizations where are committed to taking each employee's loves seriously, then together we'll be able to affect great change at work."  Love + Work
As Marcus has shared in many of his presentations, books and Workshops helping students find their loves is not a nice to have it is a MUST have.  I too believe this is important.  We need to find new ways for students to discover their loves and strengths in elementary school so these young minds start to understand who they are.
A strength is something that strengths you.  Marcus Buckingham
In Chapter 19 – Love in Learning – Why it is Missing and How you can get it Back:  Marcus highlights a deeply personal story about his family and his former wife being arrested for paying another person to take the ACT for their son.  The raw emotion of this experience is shared and highlighting ways forward in the A Love + Work School Manifesto and a Love + Work Curriculum. Loved this:
"There would be classes on how to make decisions, how to build resilience, how to join a new team, how to be on multiple teams, how to explain yourself to your new team members, how to talk about your strengths without bragging, how to talk about your loves without sounding self-involved."  Love + Work
In Chapter 20 – Your Children are Not Your Children – One Thing I Hope you Learned from your Parents:  Marcus shares stories about his kids and his parents, along with how his parents brought specialists in to help him find ways to manage his stammer.  Another great quote of creating space for our children to discover their loves.
Throughout the Love + Work Leaders Series and the book the lens of Psychological Safety is an underlying theme.  An excellent resource is  Timothy Clark's book The Four Stages of Psychological Safety.   Psychological Safety is the secret sauce in finding and sharing your loves.
Love + Work is a beautiful book and one I will recommend to many.  If reading another book feels like too much, watch a video or two shared by Marcus Buckingham on YouTube or join the next live Instagram.  The conversations are always passionate as Marcus invites each of us to discover our loves in work and in life.
I hope you have enjoyed my thoughts on Love + Work and will pick up this wonderful book.  For me I ordered this book from our local bookstore.  As we find ways to lift others and invest in community supporting your local and independent bookstore is a beautiful way to do this.
To the love of reading.  Be inspired. Stay curious. Keep learning.
Be kind.
Be patient.
Be nourished in all you do.
At The Nourished Executive we coach business professionals and share strategies to invest in wellbeing, manage stress and prevent burnout. Our founder, Sharon K. Summerfield, is a holistic nutritionist and certified breath coach, with an extensive business background.  We have a strong commitment to giving back, investing in local community creating space for all students to consider careers in construction, science, technology, engineering and math.