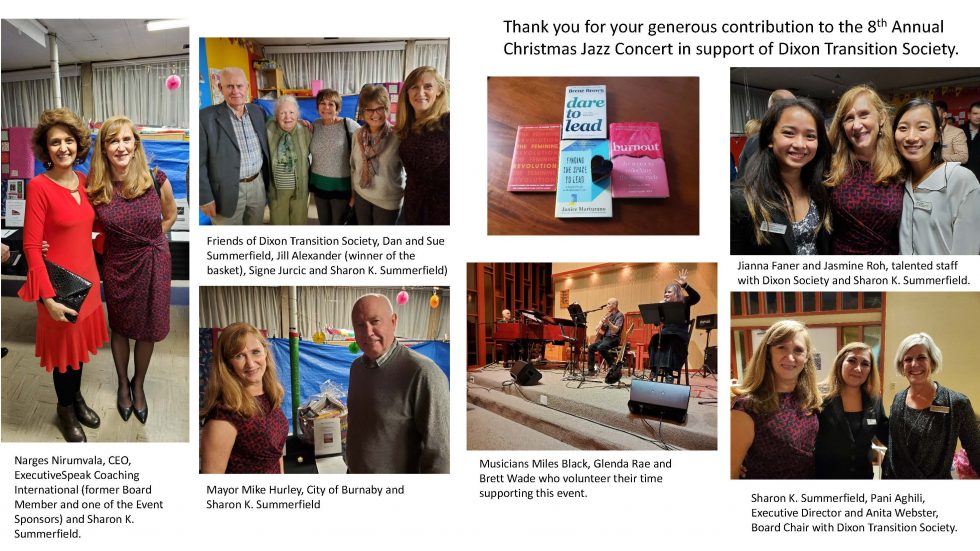 Dixon Transition Society
In December 2019 The Nourished Executive had the pleasure of contributing to the Silent Auction that was held at Brentwood Presbyterian Church at the Annual Jazz Concert Supporting Dixon Transition Society.
Included in our contribution to the Silent Auction was:
Finding the Space to Lead, author Janice Marturano – signed by the author
The Feminine Revolution, authors, Amy Stanton and Catherine Connors signed by one of the authors
Burnout – The Secret to Unlocking the Stress Cycle, authors Emily Nagoski and Amelia Nagoski – signed by the authors
Dare to Lead, author Brené Brown
A photo book of personal photos, taken by Sharon K. Summerfield, captured with several of her thoughts and quotes from the above authors and other authors was also included.
Two mugs
A Bulga Basket
Through the generous support of many this event raised close to $7,000. These funds will be directed through the Dixon Transition Society to help woman and children fleeing domestic violence. We feel so blessed to be able to support this important work.
Be kind. Be patient.
Be nourished in all you do,
Sharon
At The Nourished Executive we coach business professionals and share strategies to invest in wellbeing, manage stress and prevent burnout. Our founder, Sharon K. Summerfield,  is a holistic nutritionist and certified breath coach, with an extensive business background.  We have a strong commitment to giving back, investing in local community creating space for all students to consider careers in construction, science, technology, engineering and math