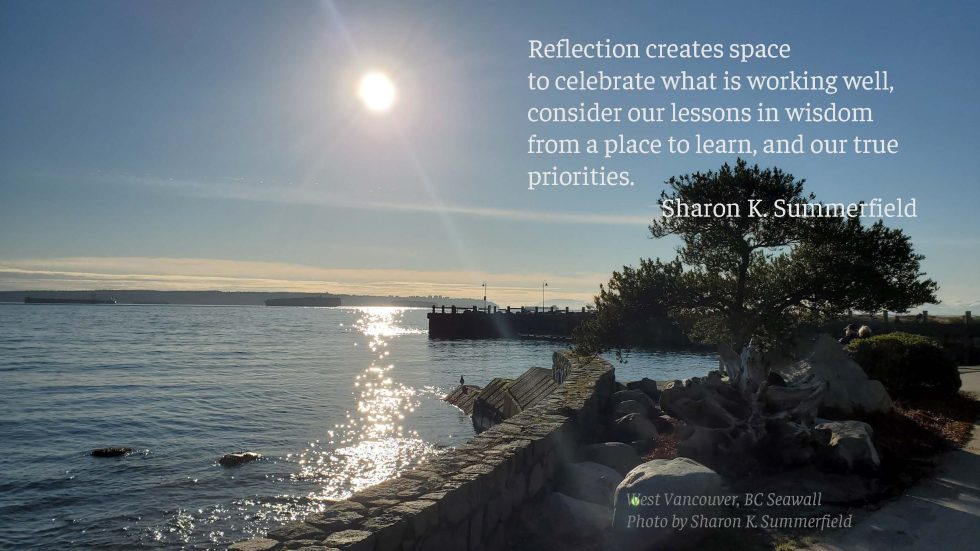 Creating space for reflection is an investment in ourselves
We have heard the importance of creating time for reflection. What does reflection mean to you?  For me it is creating the space to celebrate what we are doing well,  breathe into our lessons in wisdom from a place to learn and grow, consider our true priorities, reflect on all we are grateful for, and how we are making a difference.
Many of us want to make time for reflection.  We have the journal. We know the importance of stepping away from technology to reflect.  Starting to write in your favourite journal helps you slow down, move away from "always being on" where you can relax and enjoy better sleep.
I have learned our lives become so rich we when make reflection a true priority.  It is easy to get caught up in the busyness of life.  There is a cost.
Several years ago I had the true joy of participating in the Women's Executive Network Mentoring Program, where I was first introduced to the idea of incorporating a yearly reflection.  At the time this seemed liked just one more thing.
At that time I was not sold of the "why" nor was there a true "hook" to help me understand the beauty of this ritual.
There came a time I was truly juggling so much and looking at a pending layoff, as I was working for a global engineering firm and my project role was coming to an end.  I had not taken a real holiday, one just for me, in many years.  I booked a flight and went to Maui.
Once I arrived, I found two amazing books, Finding the Space to Lead, written by Janice Marturano and From Values to Action, written by Harry Jansen Kraemer.  I continue to be inspired by both these authors.
This truly was my first introduction of mindfulness, meditation and the "whys" around self-reflection.  As I started reading Finding the Space to Lead, I was introduced to a walking meditation.  I thought the beach was a perfect place to begin.
The idea of the walking meditation was to only walk.

I was so caught in doing mode, and making lists in my head of what I may do when I returned  following my vacation, I was hit by a wave and landed on my butt in the sand.
As I started to read The Four Principles of Value Based Leadership the self-reflection piece resonated strongly with me.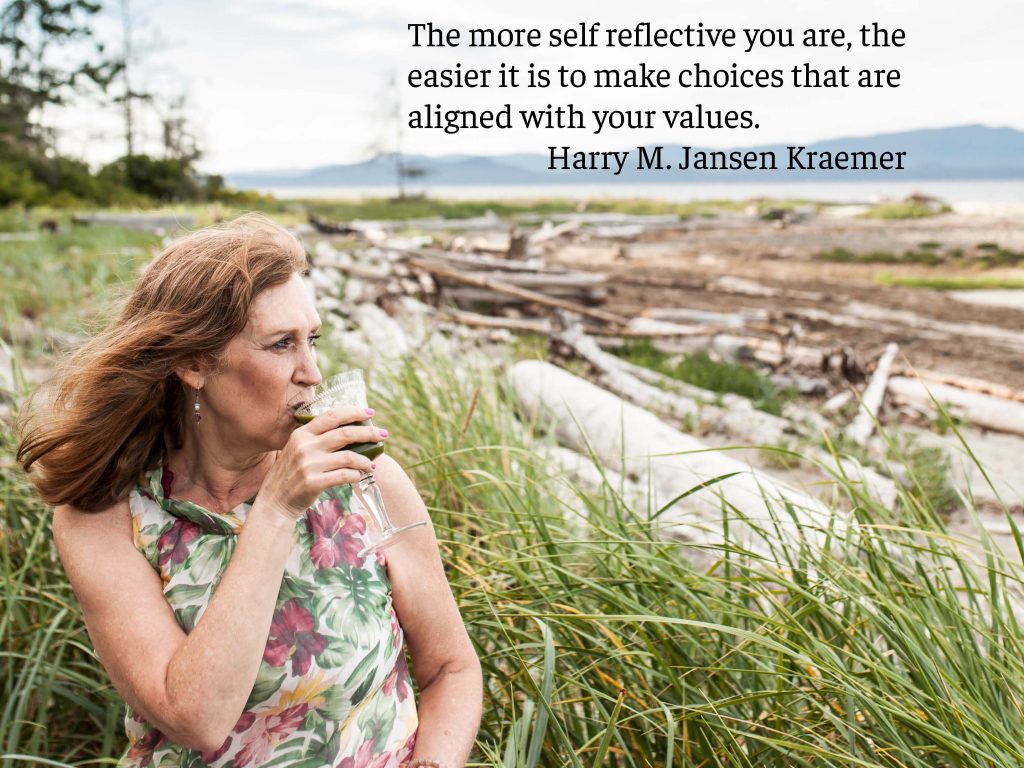 Something amazing happened, the more I created space to reflect and incorporate more walking meditations, I started to feel relaxed and experience deep restful sleep.  When my family picked me up at the airport, my sister commented, she did not recognize me as I looked so rested.
As I returned home I started incorporating greater reflection into my daily life.  This started with a reflection of my calendar that I was introduced to in "Finding the Space to Lead".
The calendar reflection is a way to learn something about yourself and how you spend your day

Janice Marturano
This became the hook as I looked at the meetings in my calendar, which ones I needed to attend and the ones I did not, and consider if I was needed for all of the meeting or only part of.  These are tools I continue to use.
As life changed I was laid off and out of work for 9 months.
The time away from work, building greater reflection into each day, helped me make different choices on how I would incorporate greater self-care, more harmony with life and work, look at how I could give back and consider my relationship with technology.
I was now doing an annual reflection and daily reflection.
Once I stepped into my new role I continued with my daily reflection and added an additional reflection, a weekly reflection that was captured in my work calendar. I took 30 minutes at the end of each week to look at where I was thriving,  lessons I was learning, as I do believe mistakes are lessons in wisdom, was I showing up as my best self doing my best work and the intersection of my values.
The combined reflections were a gift and help me make different choices to harmonize my life where work was not always priority one.
Fast forward a few years, as I move forward on a lengthy healing journey after a tumble off my husband's motorcycle.  Reflection has been a key piece.  In July 2018 I took a tumble off my husband's motorcycle which resulted in many injuries.
I refer to this as "Project Me".  Some of my practitioners, such as my talented physio Klara, will be with me for the length of the project.  Other practitioners will only be with me for different segments of my healing journey.
For the first five months post injury doing a daily reflection was not possible as I could not write or type with my right hand.
The things I took for granted I could not do.  I knew returning to my annual reflection was key.
This took longer, but was so important.  The first year, following my accident I did my annual reflection, but had to do break this up over multiple days as I could not write for very long.
Some of my goals were:
To drive my car
Wear pants with a zipper once a week
Return to Private Pilates
Cut my food
Pick up a cup of tea with my right hand
Play the keyboard for 2 minutes, with the hope of playing the piano
Type for 5 minutes
Return to writing my daily reflection
I will openly admit being on an extensive healing journey, being in pain, not be able to do the things you have taken for granted is so not easy.  As a small typing exercise, for a few months, I started to capture what I was  able to do in a spreadsheet, so I could see improvements.  This started giving me real baselines.  I began to re-introduce, as I was able, my daily self-reflection.
The next year as I looked back on my goals and I had achieved each one.  I set new goals for the following year.  As my healing journey moved forward this created space to coach others on the importance of reflection.  Each year I continue to improve. I still need to pace myself and truly listen to my body.
In December 2020 I reached another new goal I was able to play the piano for close to 10 minutes.
No matter what goals you are working towards creating a ritual of reflections will support you.
Just begin and schedule the time in your calendar.
In pursuit of life balance, we are all works in progress.  Harry Kraemer
Calendar Reflection
This will help you see where your time is going and consider are these your true priorities. We can carefully choose what we say yes to.  Everything you say yes to, you are saying no to something else.
Daily Self Reflection
Take time to reflect on your day.  What did you do well?  What were your lessons in wisdom?  Are there things you can do differently?  Where are you spending your time?  How is this aligning with your values?  Are you taking time to create space to plan?  What is your intention for tomorrow?
Weekly Reflection
Carve that time out to look back on your week.  Were you able to move your true priorities forward?  What were some of the barriers?  What relationships would you like to invest  in?  Are you working in your strengths zone?  Were you in alignment or conflict with your values?  How did you make a difference in the life of another person?
Annual Reflection
Schedule time at the end of the year or beginning of the year to reflect, considering your goals and set new ones for the coming year.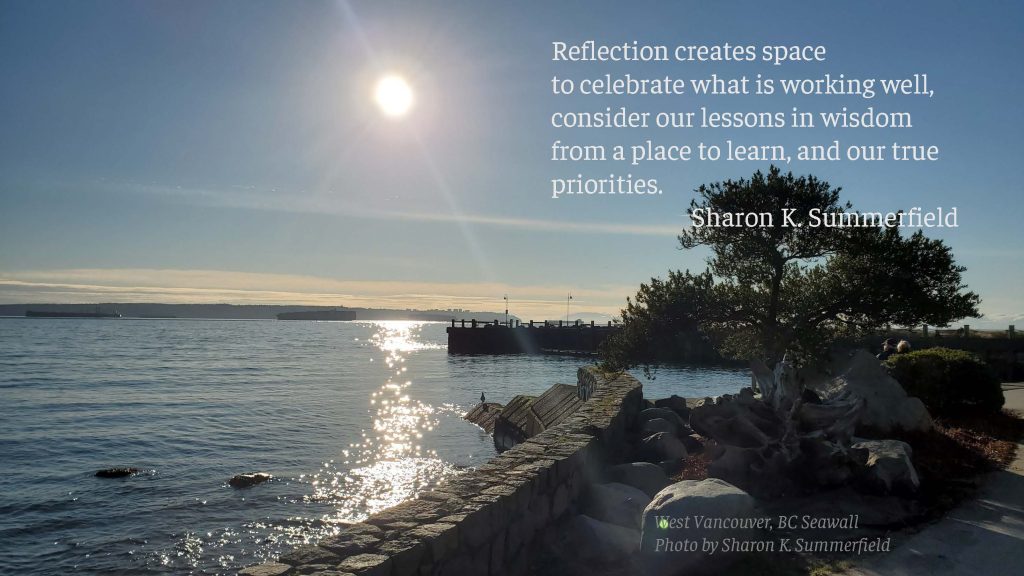 Creating space for reflection truly is an investment in yourself.  What new ways can you create space for reflection and make this an ongoing ritual?
A ritual of reflection is part of my coaching to empower business professionals to make choices around what their true priorities are, sharing strategies to invest in their wellbeing.  The insights gained on where you invest your time and energy will create a path "to be nourished in all you do".
Sharon
At The Nourished Executive we partner with business professionals and share strategies to invest in wellbeing, manage stress and prevent burnout.
Our founder, Sharon K. Summerfield,  is a Wellbeing Coach and a Holistic Nutritionist, with demonstrated success in nurturing healthy employees and high performing organizations.
We have a strong commitment to giving back, investing in local community creating space for all students to consider careers in construction, science, technology, engineering and math.