Together – The Healing Power of Human Connection in a Sometimes Lonely World, author Dr. Vivek H. Murthy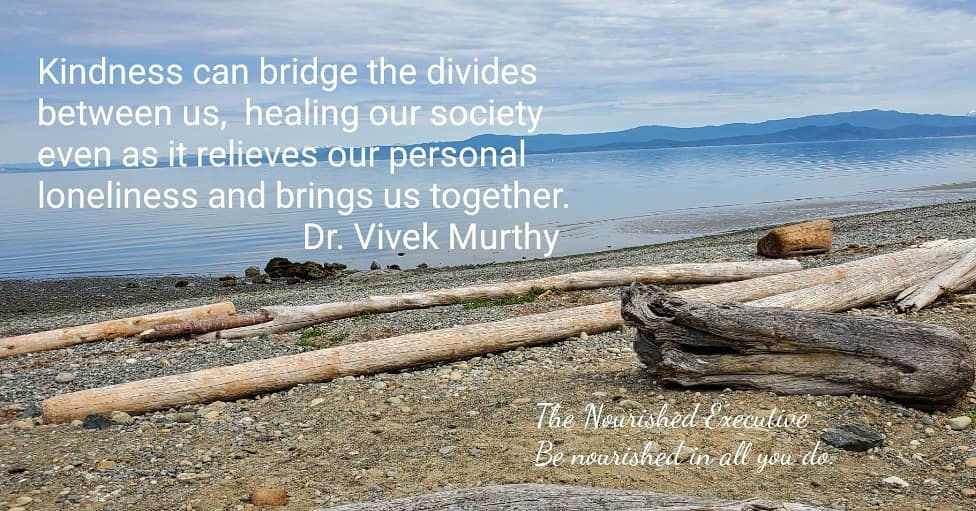 I was introduced to this book after listening to the Podcast on Loneliness and Connection with Brene Brown and Dr. Vivek H. Murthy.  Link:  https://brenebrown.com/podcast/dr-vivek-murthy-and-brene-on-loneliness-and-connection/  I have now listened to this podcast twice as it was filled with so pearls of wisdom.  Together is a wonderful book and one I highly recommend.
Dr. Murthy shares there are three types of loneliness and we need each to live a rich and rewarding life.
This book is filled with many stories as Dr. Murthy takes us on a journey writing this book. Loneliness can run like a dark thread with links to addiction, violence, anxiety and depression.  We are in a time where we have so many tools to connect and sadly this is creating greater gaps of loneliness.
As we consider our relationship with loneliness we also need to give some thought to how we come together, taking into account, what energizes us?
We have an opportunity to build a more connected future where we come together and share our stories.
This begins with small steps.  Enjoying a family dinner with no technology.  Engaging in polite conversation as you run errands in your local community. Connecting with friends, colleagues and family in whatever way works, no longer how long it has been. Spend time in your local community by offering a hand up.
Look for those intersection of connections by taking part in a new activity such as a small group walk in a garden.
For me this was such a beautiful read and a great reminder of the importance of coming together and connecting.   This would be a great partner read with Emotional Agility, written by Susan David.
Be kind and gentle with yourself and others.
Be nourished in all you do.
Photo credit:  Sharon K. Summerfield, Qualicum Beach, BC Canada
At The Nourished Executive we coach business professionals and share strategies to invest in wellbeing, manage stress and prevent burnout. Our founder, Sharon K. Summerfield,  is a holistic nutritionist and certified breath coach, with an extensive business background.  We have a strong commitment to giving back, investing in local community creating space for all students to consider careers in construction, science, technology, engineering and math