To the love of Kale!
To the love of Kale!
Earlier this week I had the pleasure of spending time with my sister and my son.  My sister has an exquisite garden that is filled with glorious Kale.  I always enjoy having Kale in our home as it is one of the most nutrient dense foods around and a great addition to salads, soups, eggs and so much more.
This is a beautiful time to visit your local farm or market to pick up some Kale to enjoy.
As this bouquet was so rich and gorgeous, I decided to make some Kale chips. I was pleasantly surprized how easy these Kale chips were to make and how much our dog Shelby enjoyed them.  If you are looking to increase your vitamin B levels enjoying Kale chips with nutritional yeast is one of the easiest ways to do this.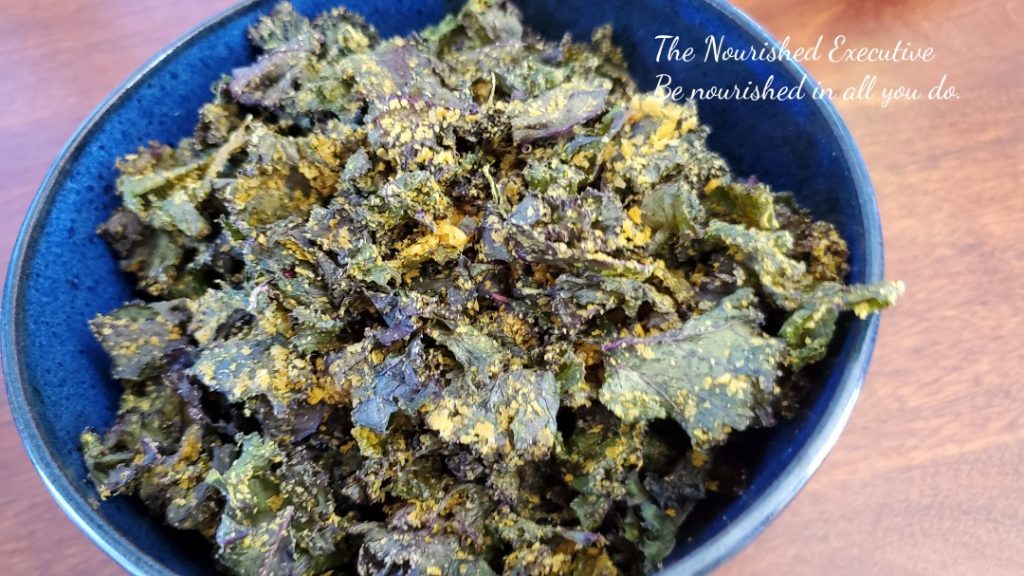 Enjoying Kale Chips is so easy:
Preheat your oven to 200
Line a cookie sheet with parchment paper
Mix 2 to 3 cups of Kale Leaves, without the stems, that have been broken in small pieces in a medium size bowl.  You want to remove the stems as they are very bitter.
In a separate bowl, combine 2 tbsps Olive oil, 2 crushed garlic cloves and 1/2 cup Nutritional Yeast.
Add this mixture to the Kale leaves and mix with your hands.
Once mixed place on prepared cookie sheet and put in the oven for 1 hour.  Continue to turn the leaves until they are crispy.
Remove from the oven, and cool.  Once cooled enjoy!
Consider picking up some local Kale at your favourite grocer or farm, while being safe wearing your mask.
Be kind.  Be patient.  Take good care.
Be nourished in all you do.
Sharon
At The Nourished Executive we coach business professionals and share strategies to invest in wellbeing, manage stress and prevent burnout. Our founder, Sharon K. Summerfield,  is a holistic nutritionist and certified breath coach, with an extensive business background.  We have a strong commitment to giving back, investing in local community creating space for all students to consider careers in construction, science, technology, engineering and math