The Gift of Reflection
Creating space for reflection is an investment in ourselves.
Have you considered investing in yourself with an ongoing ritual of reflection?
For me this is something I have been doing for many years.
There are a few pieces to this.
First, begin with a calendar reflection, where you look forward and a daily reflection you do at the end of the day.
And then if you are so inclined consider building on your daily reflection with an annual reflection.
Part One – Begin with a Calendar Reflection – looking forward for the next few days and a weeks.
As you begin your reflection consider a few questions, remembering this is your calendar.
Is everything captured in my calendar my true priorities?
Do I have transition time between each meeting and event?
The lack of transition time between each and everything we are doing is impacting our wellbeing.
Can I delegate this meeting to another person?
Or for this meeting or event, do I say yes to myself and send regrets?
Part Two – Daily Reflection at the end of each day
For me I like to do this at the end of each day, asking myself some simple questions.
What went well today?
Did I focus on my true priorities?
What were my lessons in wisdom?
As you reflect are there any patterns you are noticing?
Take some time to look at these patterns first through your lens of your strengths, and consider potential changes.
Then create your intention for tomorrow.
This is a beautiful way to being closure to the day.
If you have not discovered the power of a reflection ritual I encourage you to, begin.
We only have 168 hours in each week.  It is up to each of us to make choices on how we share our time.
To learn more about my journey to discover the gift of reflection feel free to take a look at this blog.
For additional reading on this topic feel free to take a look at Janice Marturano's book "Finding the Space to Lead" and Harry Kraemer's books The Four Principles of Value Based Leadership and Your 168.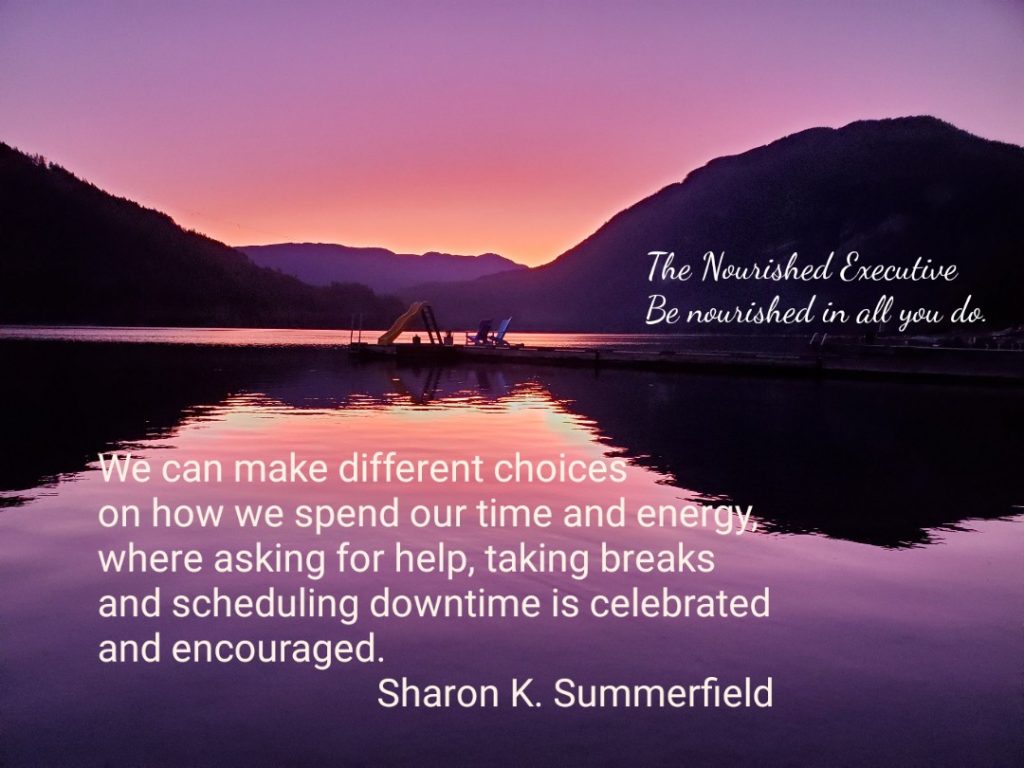 At The Nourished Executive we coach business professionals and share strategies to invest in wellbeing, manage stress and prevent burnout. Our founder, Sharon K. Summerfield, is a holistic nutritionist and certified breath coach, with an extensive business background.  We have a strong commitment to giving back, investing in local community creating space for all students to consider careers in construction, science, technology, engineering and math.