Cacao Pecan Pie – a perfect addition to any holiday celebration
Looking for a recipe to enjoy during the holidays that is gluten free and vegan, using clean ingredients, this one is amazing.
A number of years ago, when there was a Book Warehouse, in North Vancouver, I discovered this amazing cookbook, Clean Food – A Seasonal Guide to Eating Close to the Source, written by Terry Walters.
This quote is from Clean Food featuring one of my photos of the Fraser River in Vancouver, BC.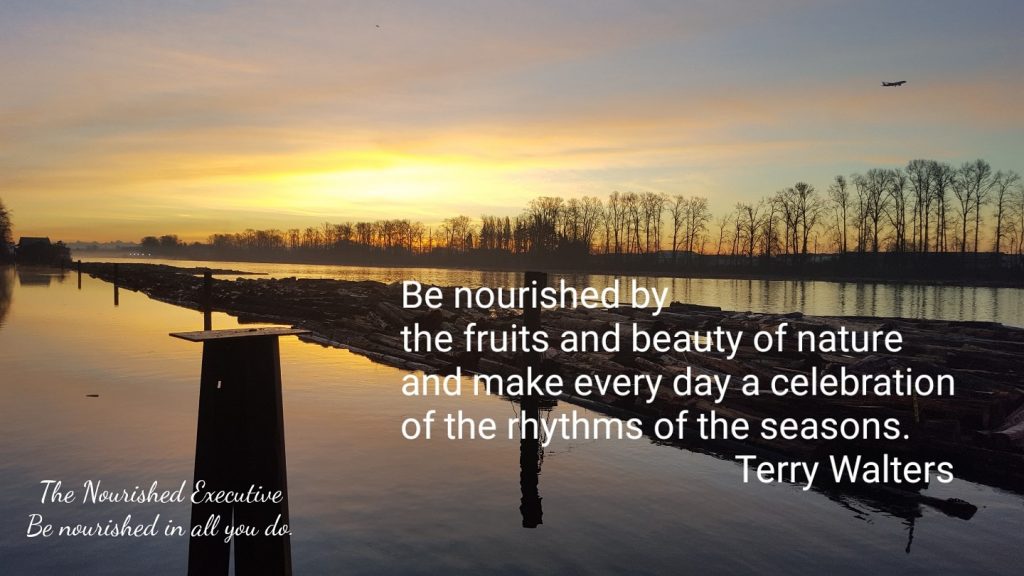 When finding new recipes and cookbooks I like to sit with these and consider ways to make a few changes that will enhance and bring out new flavours. As I spent time with this gorgeous cookbook I started to experiment with Terry's recipe for Chocolate Pecan Pie, and transformed this recipe to the Cacao Pecan Pie, featured here today.
I am so grateful to have found this amazing cookbook, and Terry Walters.  It is through choosing different ingredients we can make recipes more nutrient dense as Terry continues to do in all her work.
Cacao Pecan Pie – inspired by Terry Walters
Ingredients
Crust
1.5 cups almonds
1 cup rolled oats (look for those that are gluten free)
1/4 cup cacao powder (this is the raw form of cocoa)
1/4 cup olive oil
1/4 cup maple syrup (I prefer the Grade A Amber)
Filling
2 tbsp ground flaxseeds
3/4 cups organic apple juice
Juice from 1 orange
1/2 cup raisins
1/2 cup honey
1/2 cup cacao powder
1 tbsp almond butter
2 tbsp orange zest (from around 1 orange)
1 tsp real vanilla extract
2 cups lightly toasted pecans
Directions
Preparing the crust
Place the almonds, oats and cacao in a blender of food processor and blend to form a crumb like texture.
Combine in a bowl and add olive oil and the maple syrup.  Press in a 9 inch spring form pan, that has been prepared, and bake at 350 for 12 minutes.  Remove from oven and cool on cooling rack.  Leave oven on.
Preparing the filling
Soak ground flax with 6 tbsp of water for 20 minutes.  Soak raisins in 1/2 cup of water.  In a small pot combine apple and juice from orange, orange zest, honey and cacao powder.  Place over medium heat for 10 minutes.  Add almond butter to flaxseed and whisk into apple juice and cacao mixture.  Remove from heat and stir in vanilla.  Please do not add the raisins to this.
Assembling
Arrange raisins over the base.  Then add 2 cups of pecans over the cooled based.  Pour filling over the raisins and continue to arrange the pecans.  Cover loosely with tin roil and bake for 50 minutes.  Remove from oven and cool on cooling rack.
Serves 10 to 12 people.
We hope you enjoy this pie that most can enjoy, except those who cannot enjoy cacao.
Be kind. Be patient.  Take good care.
Be nourished in all you do.
Wishing you all the best for the season.
Sharon
At The Nourished Executive we coach business professionals to be nourished in all they do.   We have a strong commitment to giving back, investing in local community creating space for all students to consider careers in construction, science, technology, engineering and math.