Plant Based Zucchini Lasagna rich in Vitamin B
What does Zucchini, Pumpkin seeds, Tomatoes, Cashews, Hemp Hearts and Nutritional Yeast have in common?
Delicious plant based Zucchini lasagna, rich in Vitamin B and Magnesium.
I love to create recipes like this to share with those who are convinced they only eat "meat" dishes.
This year we have been so blessed with many, and I mean many, tomatoes and zucchinis in our gardens and featured at our Farmers Markets.  I truly enjoy the imperfections of these veggies.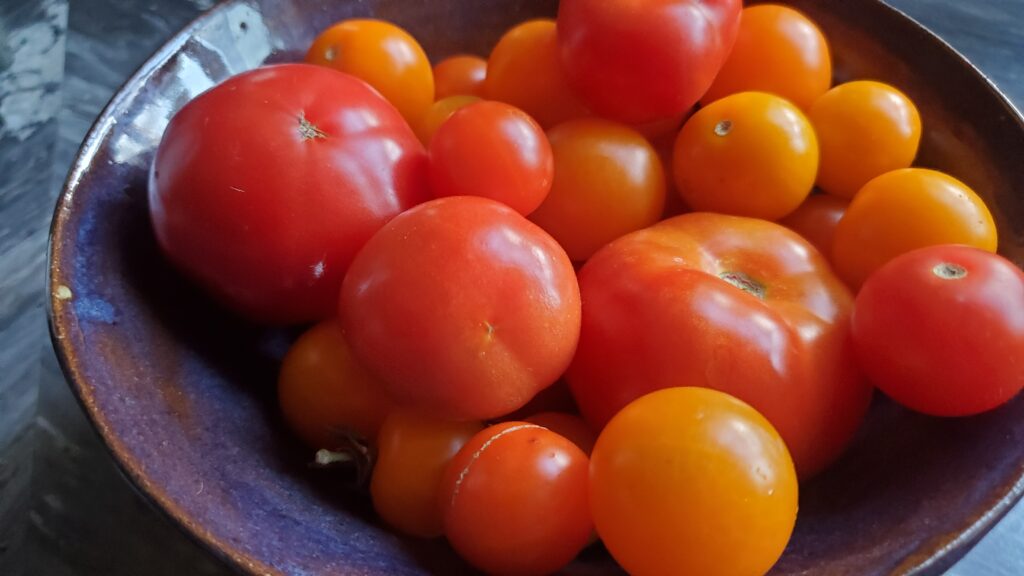 A few years ago I discovered an Eggplant Plant Based Lasagna the talented Joy with Joyous Health created.   I rarely "go by the book" and will revise recipes.  I started to make changes by first replacing the Eggplant with Zucchini and the Garlic powder with Garlic.  One of the things I was looking at was incorporating a different type of pasta sauce or tomato sauce.
This plant based dish is rich in Vitamin B and Magnesium.  The Nutritional Yeast is such a great source of many of the Vitamin Bs and a great option for those who are vegan to incorporate more B12 in their eating plan.
As I strongly believe in giving back and offering a hand up, I had the chance to purchase a new cookbook.  I always love finding new cookbooks especially ones that include collections of recipes from around the world.  This one was unique and different as it was created by the staff at a construction company, LMS Reinforcing Steel Group featuring a beautiful mosaic of recipes from their staff. The sales from this amazing cookbook raised $10,000 for Canucks Place, in Vancouver, BC.  Congratulations to all involved.
The LMS Family Cookbook along with one of the Joyous Health Cookbooks will be part of several door prizes for a Wellness Event that The Nourished Executive is planning later on this year.  More to come of this.
The LMS Family Cookbook featured a beautiful Zucchini Lasagna with a Fresh Marinara Sauce created by Carmen Calzada.
As I looked at the Marinara Sauce, this seemed to be a great addition to the plant based Zucchini Lasagna recipe that continued to evolve.  I am so grateful to Joy and Carmen for the inspiration to create something new, by "not going by the book".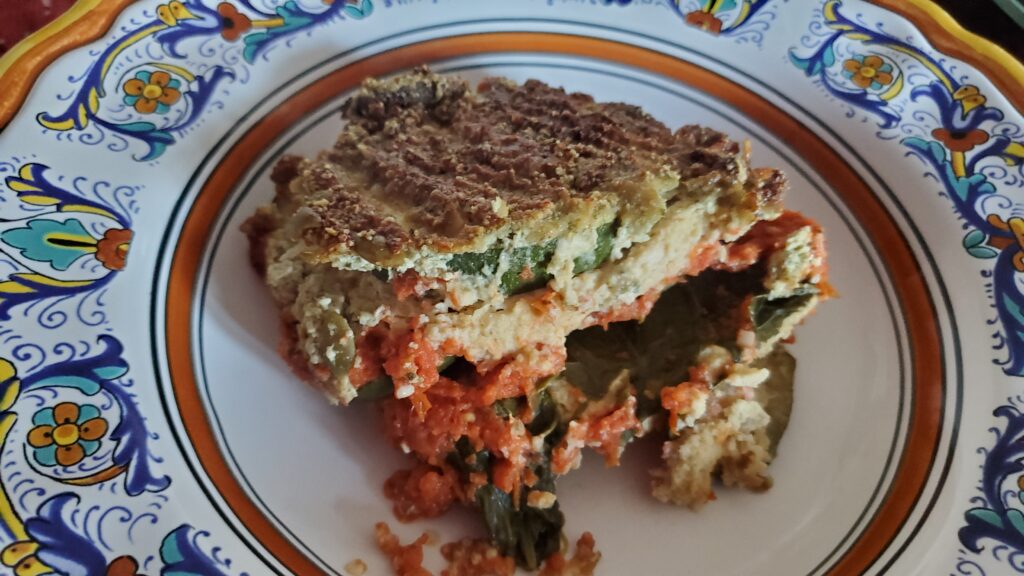 Some of the changes are:
A collection of fresh Tomatoes
More fresh Garlic
A plant based Parmesan that includes Nutritional Yeast
Replacing the lemon juice with the juice from a fresh orange
Replacing Eggplant with Zucchini.
Recipe by Sharon K. Summerfield
Feel free to download the pdf version Plant Based Zucchini Lasagna
These are the steps I take in preparing this recipe.
Step 1 – prepare the Marinara Sauce
Fresh Marinara Sauce
Ingredients
1 Onion – chopped
1 tbsp. – Olive oil
3 Garlic cloves
3 cups of fresh Tomatoes (or 796 ml Diced Canned Tomatoes)
1 tsp Oregano leaves
1 tbsp. Nutritional yeast (I like Bragg's)
Directions
In a cast iron fry pan, add oil olive and bring to temperature.  Add chopped onion and sauté.
Add remaining ingredients to your blender.
Once the onion is softened add to the blender and blend all ingredients.  Pour from blender into a bowl, and refrigerate.
Step 2 – prepare the Ricotta Cheese
Ricotta Cheese Plant Based (this also makes a great plant based cheese spread to bring to a happy hour)
3 cups raw Cashews (the broken cashes pieces work great)
Juice from 1 Orange
1/4 cup Nutritional Yeast (rich in vitamin B)
2 Garlic Cloves (if you like a stronger garlic flavour add additional garlic)
1 cup water
Directions
Add 3 cups of raw Cashews to your blender and fill with water until the cashews are covered.  Soak these over night for minimally 8 hours.
Pour soaking water from Cashews.
Add all ingredients to your blender and blend until creamy.
Add water as needed to get the desired consistency.
You can store this in the fridge for close to 5 days.
Step 3 – prepare the Parmesan Cheese
Parmesan Cheese – Plant Based – rich in vitamin B
1 cup Pumpkin Seeds
2 tbsps. Nutritional Yeast
1 clove of Garlic
4 tbsps. Hemp Hearts
Directions
Add all the ingredients to a higher powdered bullet and blend until crumbly.
Step 4 – Put together the Lasagna dish
Plant Based Lasagna
Ricotta Cheese Plant Based – 3 cups
2 cups fresh Spinach.
2 to 3 large Zucchinis
3 cups Marinara Sauce
I like to use all the Plant Based Parmesan Cheese.
Directions:
Preheat oven to 350 F.  You will need either one – 9 X 12 baking dish; or 2 loaf pans.
Cover base of dish (which ever ones you decide to use) with a thin layer of Marinara Sauce.
Add one layer of sliced Zucchini, not sliced to thin, but not too thick.
Add one layer of the Ricotta Cheese.
Add one layer of  Spinach.
Add another layer of sliced Zucchini.  I like to have this layer Zucchini going in a different direction that the first layer.
Cover with more Marinara sauce.  If you enjoy garlic, I often will add more garlic on top of the Marinara sauce.
Sprinkle with the Parmesan cheese, plant based.
Bake for 30 to 45 minutes until the Zucchini is tender and thoroughly cooked.
Refrigerate and enjoy within 5 to 7 days.
Another option:
Prepare the dish and do not bake.  Freeze until you are ready to bake and bake for closer to 1 hour.
This dish is a great option to bring to dinner with friends and family.  Most do not realize this is a plant based dish.
Hope you enjoy this recipe featuring so many nutrient dense ingredients.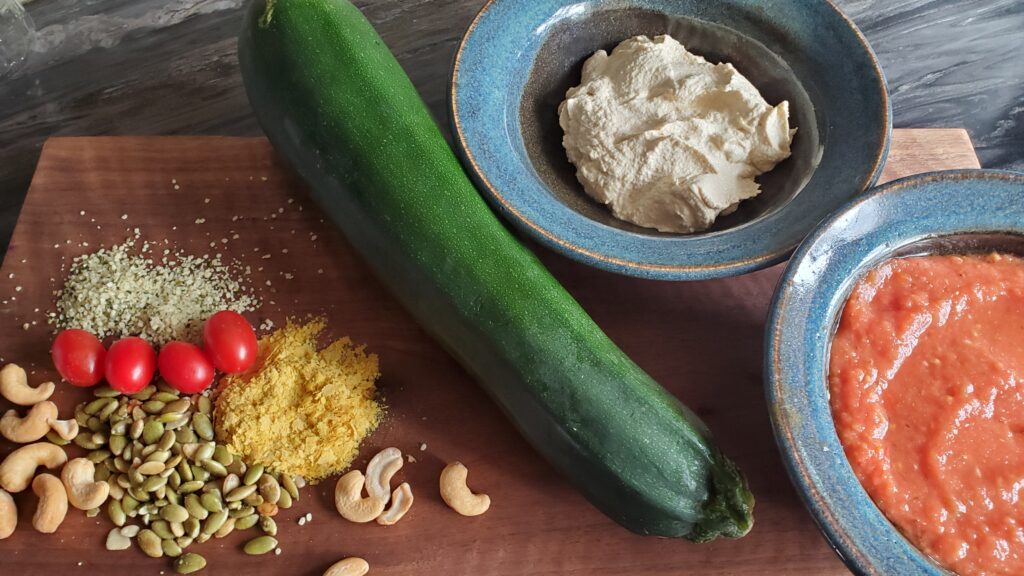 Be kind. Be patient. Be nourished in all you do.
Sharon K. Summerfield
At The Nourished Executive we partner with business professionals and share strategies to invest in wellbeing, manage stress and prevent burnout.
Our founder, Sharon K. Summerfield,  is a Wellbeing Coach and a Holistic Nutritionist, with demonstrated success in nurturing healthy employees and high performing organizations. 
We have a strong commitment to giving back, investing in local community creating space for all students to consider careers in construction, science, technology, engineering and math.