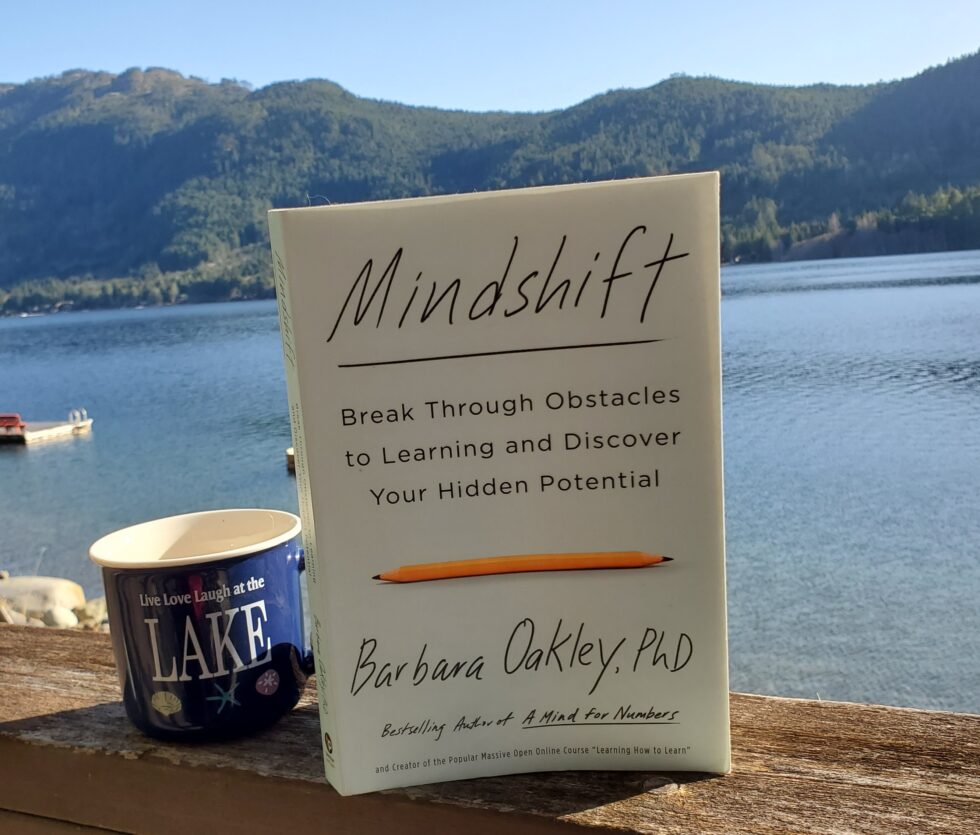 Inspiring Read – Mindshift: Break Through Obstacles to Learning and Discover Your Hidden Potential
I had the true joy of reading Mindshift:  Break Through Obstacles to Learning and Discover your Hidden Potential, written by Barbara Oakley. while at the cabin, sitting around the fire on a gorgeous spring Sunday.  Mindshift would be an amazing partner read to Adam Grant's. Think Again.
This book is a gift and one to be returned to for continued inspiration, especially during these times, as we continue to navigate these new waters. The continued theme of life long learning and making choices to invest in our learning, no matter what obstacles you are presented with continues throughout this book.
Mindshift takes us on a journey around the world with various case studies, highlighting ways a Mindshift was needed to propel forward, navigating great uncertainty. I really enjoyed how each chapter closes with questions and ideas to reflect on.  There was a continued theme of the intersection of music with math and science.
How often when we are learning something new do we come back to the concepts we have mastered and continue to revisit these?
Greater learning happens when we continue to focus on the most difficult concepts and rethink our assumptions.
Some key highlights:
Consider your hidden potential and how you can intertwine your passion.
Consider the connection between music and math.
Carve out thinking time in 25 minute blocks as highlighted in The Pomodoro Technique.
Get active and find ways to move.
Move beyond what you have always done and open your mind to new possibilities.
Invest in your learning always.
As the waters of life change, find those ways to get closer to your purpose and reinvent yourself.
A few highlights:
Chapter 1 – Transformed
Highlighting an story of Graham Keir, a jazz musician who transitions from music to math and science.  Loved seeing this the intersection with music and math.
"Learning something new sometimes means stepping back to novice level.  But it can be a thrilling adventure!"
Chapter 1 closes with a question on what you could do to broaden your passion and do something that demanded more of you?
Chapter 2 – Learning Isn't Just Studying
This chapter highlights the story of Claudia who struggled with depression and found new ways forward to "learn to get healthy".  Part of this was learning to learn.
Chapter 2 closes with a question on what mind shift are you trying to accomplish?
Chapter 3 – Changing Culture – The Data Revolution
Highlights the journey of Ali Naqvi, who grew up in Pakistan, and struggled with Math. This chapter takes us on a journey through an amazing career from playing amateur golf to Ali becoming a business partner with a global media agency and how on-line learning is an amazing tool  Along with the importance of working in "bursts" using the Pomodor app, fitting in leisure activities around schedules of focused learning and focusing on new concepts just before going to sleep.
Chapter 3 closed with asking us to consider what tiny chunks we can practice over a few days.
Chapter 4- Your "Useless" Past Can Be an Advantage
This chapter shares the journey of Tanja de Bie, a project coordinator at Leiden University in the Netherlands and highlights how a "hobby" propelled her to her dream job.
"Hobbies bring valuable mental flexibility and insight".
Chapter 4 closed with Do you have special skills or Can you Develop Them?
Chapter 5 – Rewriting the Rules
This chapter highlights the life of Zachary Caceres, the director of Michael Polanyi College at the Universidad Francisco Marroquin in Guatemala City.  From early on what made Zach unique is he is independent, gifted and a creative thinker.  Junior high was not working for Zach so he proposed a new solution that he would spend the summer researching alternative programs. Highlighted in this chapter is Zach's journey and the mentorship program he was part of and how he invested in his learning to move forward on a positive path. This chapter is so inspiring.
Chapter 5 closed with asking questions on what are your learning goals and how can you best reach them?
Chapter 6 – Singapore – A Future-Ready Nation
This chapter highlights Patrick Tay who is a lawyer and an elected member of parliament in Singapore.   This chapter highlights Patrick's concerns for others and the importance of "re-designing jobs" and the need to "upskill" people to take on these new jobs.  I really enjoyed the highlighted "learning at large" and how the idea of inclusiveness is a key aspect of learning.
"A learning lifestyle is something that can be nurtured and grown in communities, nations, and cultures".
Chapter 6 comes to a close asking us to consider how we can broaden our learning toolkit and have an attitude of continuous learning.
Chapter 7 – Leveling the Education Playing Field
This chapter features Adam Khoo and his journey, who is from Singapore.  Adam struggled in school and is now the multimillionaire founder and executive chairman of one of the largest educational training firms in Southeast Asia.  One of the game changers for Adam was being part of a Super-Teen Camp, the first  program in Asia.  This program gave him so many tools, not only to learn, to be "exceptional".  In this chapter the author shares how Adam views problems as opportunities and ways to be creative.
"We are all born gifted. There is no failure, there are only learning experiences."  Adam Khoo
Chapter 7 closed with asking the question what underpins your Mindshift?
Chapter 8 -Avoiding Career Ruts and Dead Ends
This chapter shared Terrence Sejnowski's journey.  In the field of neuroscience, he is a legend.  So many great pieces to this chapter.  We only have so much cognitive energy and it is key to make choices, and be selective on what we choose to be an expert in. Find ways to build your cognitive reserve, by taking part in hobbies, especially those that involve movement and ways to learn.
Chapter 8 closes with asking us to consider where our career is heading?  Consider your career challenges and outline possibilities to transition your area of expertise.
Chapter 9 – Derailed Dreams Lead to New Dreams
This chapter highlights the journey of Princess Allotey who grew up in Ghana.  A talented young woman with so many aspirations, especially around teaching children math.  This chapter also talks about imposter syndrome.  Princess' life had a plan.  Due to her health issues and a family tragedy life changed, Princess, reframed.  She saw challenges as opportunities and found new ways forward to continue with the work she was so passionate about.  I was inspired by this chapter and this young women.
Chapter 9 closed with asking us to look at the feelings around "imposter syndrome" both negative and positive.
Chapter 10 – Turning a Midlife Crisis into a Midlife Opportunity
This chapter shares the journey of Arnim Rodeck who grew up in Botoga Columbia.  He has dyslexia which made school very difficult.  One teacher recognized some hidden strengths and found new ways for Arnim to pass his exams by building a turntable and an electric guitar. This inspired Arnim to find new ways forward to take substantial risks and continue to rebuild his life.
"The most interesting lives, are lived by people who take risks and make mistakes – and who are willing to learn from those mistakes".  Arnim Rodeck
Chapter 10 closed with asking us to consider ideas on creating my dream.
Chapter 11 – The Value of MOOCs (Massive Open Online Course) and Online Learning
This chapter highlights how adult learning is changing and how Online Learning is opening many doors to invest in our learning on our terms. The opportunities to learn are many.
Chapter 12 – MOOC-Making – A View from the Trenches
This chapter highlights creating the MOOC, developing content and what to look for in good online learning.  The author has highlighted many different organizations that offer this learning.
Chapter 13 – Mindshift and More
This is the last chapter of this beautiful book reflecting on so many highlights.  How often are we challenged by learning?  What can we reframe?  What new learning will help us move forward with new eyes? Who can you inspire to do the same?
"May your own discoveries open the minds of those you touch, so they, too, can discover the beauty and joy of learning".
Such an amazing book, that I will return and share with others.  I highly recommend this book to share openly with your teams, colleagues, family and friends.  For me I do my best to order my books from my local independent bookstore.  Most local bookstores can bring in any books you request.
To the love of reading.  Be inspired, stay curious and keep learning.
Be kind. Be patient.
Be nourished in all you do,
Sharon
At The Nourished Executive we coach business professionals and share strategies to invest in wellbeing, manage stress and prevent burnout. Our founder is a holistic nutritionist and certified breath coach, with an extensive business background.  We have a strong commitment to giving back, investing in local community creating space for all students to consider careers in construction, science, technology, engineering and math.