Celebrating the Season
This time of year there is so much amazing food to enjoy.
For many years I have been creating a number of recipes to enjoy over the holidays.
I have compiled some of our favourites to share with you.  Feel free to download this Holiday Recipes featuring some of my favourite recipes both old and new.
This Collection includes
 Healthier "Turtle" Chocolate and Pecan Treats.  This recipe was created by Stephanie Kay.  Includes three ingredients and no added sugar.
The list below includes recipes I have created over many years.
Christmas Chocolate Log
Lemon and Shortbread Tarts
Delicious Sugar Cookies
Earl Grey Shortbread
Nanaimo Bars with a Healthier Twist
Pecan Peanut Butter Cookies
Pumpkin Seed & Almond Butter Nourishing Oat Bars
Sweet Potato Apple Nut Bread
Gingersnap Cookies
and my husband's favourite Lemon Meringue Pie
Wishing you all the best for the holidays.
Be kind.
Be patient.
Be nourished in all you do.
Sharon K. Summerfield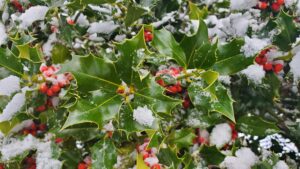 At The Nourished Executive we coach business professionals and share strategies to invest in wellbeing, manage stress and prevent burnout. Our founder, Sharon K. Summerfield, is a holistic nutritionist and certified breath coach, with an extensive business background.  We have a strong commitment to giving back, investing in local community creating space for all students to consider careers in construction, science, technology, engineering and math.