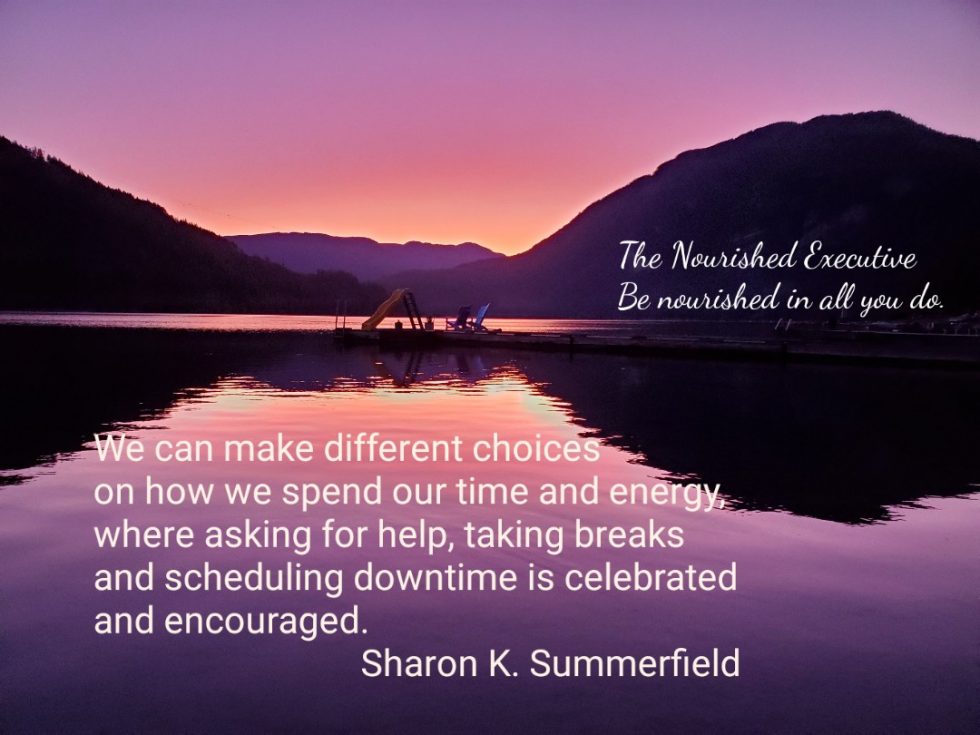 Self-care is an investment in yourself
I am hearing from many friends and colleagues, who are working remotely, and working longer hours. Our ability to always be on and connected comes with a cost.
At times we are reacting and working harder not smarter.
Our time doing great work is just as important as the time we take to pause, self reflect and schedule downtime.
Putting in the longer hours as an ongoing approach to work comes with a big cost to our overall health. What different choices can we make to harmonize our lives?
Begin by with a few ideas:
Schedule breaks each day.
Build transition time in your schedule and decline meetings that are not your top priority.
Incorporate movement and exercise each day.
Check in with colleagues, friends and family.
Choose a time each day to disconnect from all technology and screens.  Make rest a priority.
We can make different choices to make self-care a priority and learn to listen to our body, mind and spirit.
Begin with a few questions
What do I need?  How can I bring my best to all I do?  What changes can I make to be present with those that are important to me? And, what are my true priorities?
Self-care is an investment in yourself and one of the best ways to nourish your well being.
Wishing you a beautiful week.  Be kind. Be patient.  Take good care.
Be nourished in all you do.
Photo credit:  Sharon K. Summerfield, Horne Lake, BC Canada
At The Nourished Executive we coach business professionals and share strategies to invest in wellbeing, manage stress and prevent burnout. Our founder, Sharon K. Summerfield,  is a holistic nutritionist and certified breath coach, with an extensive business background.  We have a strong commitment to giving back, investing in local community creating space for all students to consider careers in construction, science, technology, engineering and math