Finally – Tasty Gluten and Dairy Free Yorkshire Pudding
For close to a decade, yes 10 years, I have been trying to create a tasty gluten and dairy free Yorkshire pudding.
Initially, when my son was in  elementary school I started working on creating a great Yorkshire pudding.  At that point I was still using regular milk and white flour.  My sister also had a farm with chickens and often we were gifted with many eggs.  As we loved Yorkshire Pudding and honestly mine were a little sad, my son encouraged me to keep trying.
Practice I did.
We had Yorkshire Pudding with every meal.
Fast forward to 2012, sadly I started  feeling unwell  after eating a traditional Yorkshire Pudding. The experiment began.
I started using different flours, like spelt, a blend of rice and other gluten free flours, along with different dairy free milks.
The results were at best sad.  Often these Yorkshire Pudding resembled more of a hockey puck, than something tasty.  No amount of gravy could save that!
This past year I started using the Namaste Foods Co. Gluten Free Flour Blend for most of my baking.  Shortbread, Gingersnaps, cakes and muffins.
I was pleasantly surprised with the results.  The big piece it did not change the flavour and no one knew these items were gluten free.
Over the last month or so I started to experiment on revisiting the quest of making a tasty, light and fluffy Yorkshire pudding.  I tripled the eggs, used a blend of water and milk along with the Namaste Flour.  I was amazed at the results.
I cannot begin to express the joy I felt watching the Yorkshire Pudding start to puff and rise.
How many times in our lives have we been trying to move things forward?
The tweaks and adjustment we make do propel us forward in new ways.
Just like my Yorkshires, I kept trying and making small changes that got me closer to the goal of creating something delicious to enjoy.
This is the recipe:
Ingredients
1 cup Namaste Gluten Free flour
1/2 cup dairy free milk (I like Almond Milk)  Please do not use Soy.
1/2 cup water
6 eggs (farm fresh is always best)
Directions:
Remove the eggs and dairy free milk from the fridge.  You want these to be room temperature.
Preheat the over to 400 degrees.
Add flour to the bowl and create a well.
Turn your mixer on a add eggs, milk and then water.
Mix until bubbles start rising to the surface.
Use a muffin tin, and add 1/2 tsp of Crisco to the pan.  Put this in the oven.  Once the oil starts to "spit" remove from the oven.
Add the prepared batter to the pan filling each muffin tin 3/4 full.
Return to the oven and cook for 45 minutes.
You want the Yorkshire Pudding to be golden brown.
Highly encourage you to put the light on for your oven.  This is a great way to check and see how the Yorkshire Pudding is puffing.
Once the Yorkshire Pudding is golden brown, tap the top to see that it is cooked.
Remove from the oven once you feel they are cooked.
Enjoy with your favourite roast.
Would love to hear how your Yorkshire Pudding turns out for your next meal.
Something always magical about enjoying a tasty meal.  True nourishment for our body, mind and spirit.
Be kind.
Be patient.
Be nourished in all you do.
Sharon K. Summerfield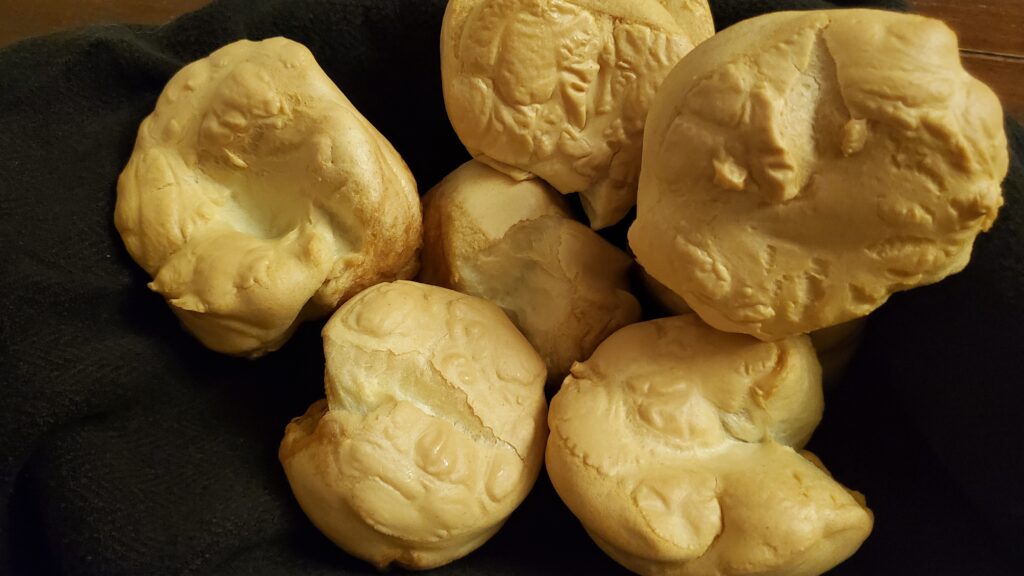 At The Nourished Executive we coach business professionals and share strategies to invest in wellbeing, manage stress and prevent burnout. Our founder, Sharon K. Summerfield, is a holistic nutritionist and certified breath coach, with an extensive business background.  We have a strong commitment to giving back, investing in local community creating space for all students to consider careers in construction, science, technology, engineering and math.