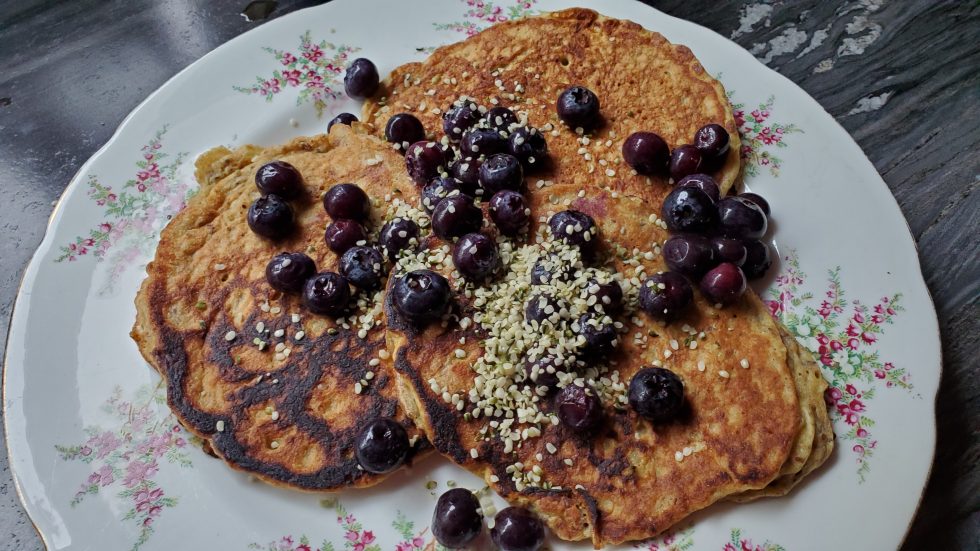 Apple Pancakes – rich in Omega 3s
What rituals do you enjoy on the weekend? One of our favourites is to enjoy nutrient dense Pancakes that are rich in Omega 3s.  We know Omega 3s are a beautiful investment in our brain health and also help to reduce levels of inflammation.
As with many of my recipes this one has evolved over the years.  And yes, our puppy Shelby, just loves these.
Shelby is part of our quality control team and always gets the first pancake.
This recipe is also featured in the ReKnew Countertop Cookbook.  I have a small stock of these cookbooks available for sale.   If you are interested send me a quick e-mail to sharon@nourishedexecutive.ca
I have tried experimenting with a number of flours and find the Spelt Flour or a great Gluten Free blend of flours works best.  These pancakes are sweetened with grated apple and maple syrup.
In the winter months to add the beautiful flavour of berries kissed by the sun, I will also add some local blackberries or blueberries that I froze in the summer.
For additional protein I also like to add Hemp Hearts with the berries.
We hope you enjoy this recipe and find that it nourishes you.
Ingredients
1 cup Organic Spelt Flour
2 tsp Baking Powder
2 tbsp Maple Syrup
1 Gala Apple, shredded
1/4 cup Olive Oil
3/4 cup non-dairy milk
2 eggs
2 tbsp Chia Seeds, soaked overnight in water
2 tsp Nested Naturals, MCT Oil
2 tbsp Ground Flax Seeds
Directions
Mix Chia seeds with 1/3 cup of water and let sit overnight.
Mix ground Flax seeds with Chia Seeds and let sit for 20 minutes
Mix all ingredients together in a bowl.
Scoop onto a warm cast-iron fry pan until you see bubbles in the centre of the pancake.  Flip pancake and cook for a few minutes
Keep pancakes warm in the oven.
Serve with fresh or frozen fruit, sprinkled with Hemp Hearts and enjoy with organic Maple Syrup.
Enjoy!
These can be made ahead of time and enjoyed during the week, to make life just a little easier.
May you find the time to sit down and enjoy your meals as a place to begin to feel nourished in all you do.
At The Nourished Executive we coach business professionals to be nourished in all they do.   We have a strong commitment to giving back, investing in local community creating space for all students to consider careers in construction, science, technology, engineering and math.